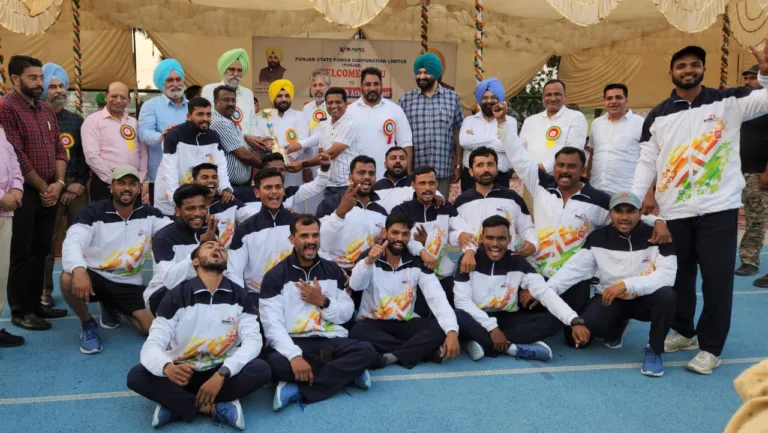 45th AIESCB Athletics Meet hosted by PSPCL ends on high notes at Patiala
Kanwar Inder Singh/ royalpatiala.in News/ October 14,2023
Maharashtra State Electricity Distribution Company Ltd. has won the overall ,45th AIESCB MEET with 37 Points, whereas Haryana Power Sports Group and PSPCL secured second and third positions with 34 and 33, points respectively.
The 45th All India Electricity Sports Control Board (AIESCB) Athletics Meet concluded on a high note at the National Institute of Sports (NIS) in Patiala on Saturday. The event, hosted by the Punjab State Power Corporation Limited (PSPCL), brought together teams from various power departments across India, fostering camaraderie, unity, dedication, and hard work among participants.
The two-day athletic meet witnessed a wide range of events where athletes from power departments of Maharashtra, Telangana, Madhya Pradesh, Gujarat, Haryana, Himachal Pradesh, Uttarakhand, Rajasthan, Delhi, and BBMB showcased their athletic prowess.
In the day, the meet featured thrilling competitions including the 400m race, Shot Put, 100m race, 1500m race, Long Jump, Javelin Throw, and the 4x400m relay. Athletes displayed their skills and determination, making the meet a true celebration of talent and sportsmanship.
Today, Harbhajan Singh, the Punjab Power and Public Works Department (PWD) Minister, graced the occasion as the chief guest. Er. Baldev Singh Sran, Chairman and Managing Director (CMD) of PSPCL, extended a warm welcome to the esteemed guest. He congratulated the winning teams and also expressed his gratitude to all the participants for their enthusiastic involvement in the event.
Er. Sran said that the AIESCB Athletics Meet has been a testament to the power sector's commitment to fostering unity and camaraderie among its employees and promoting a healthy and active lifestyle.
Addressing the gathering, Harbhajan Singh ETO praised the PSPCL for successfully organizing the 45th AIESCB Athletics Meet and congratulated all the participants for their achievements.
In his address, the power minister emphasized the crucial role being played by the power department in the progress and prosperity of the nation. He said that farming and Industry performing principle role in the prosperity of Punjab. "During previous governments, farmers and industrialists of the Punjab faced immense challenges due to unreliable power supply. Now, under the visionary leadership of Chief Minister Bhagwant Singh Mann, our government has invested in upgrading our power infrastructure, optimizing distribution networks, and diversifying our energy sources. As a result, we have significantly improved the power supply situation in our state. Today, Be it agriculture, small-scale industries, or other consumers, everyone is receiving uninterrupted power supply," he said.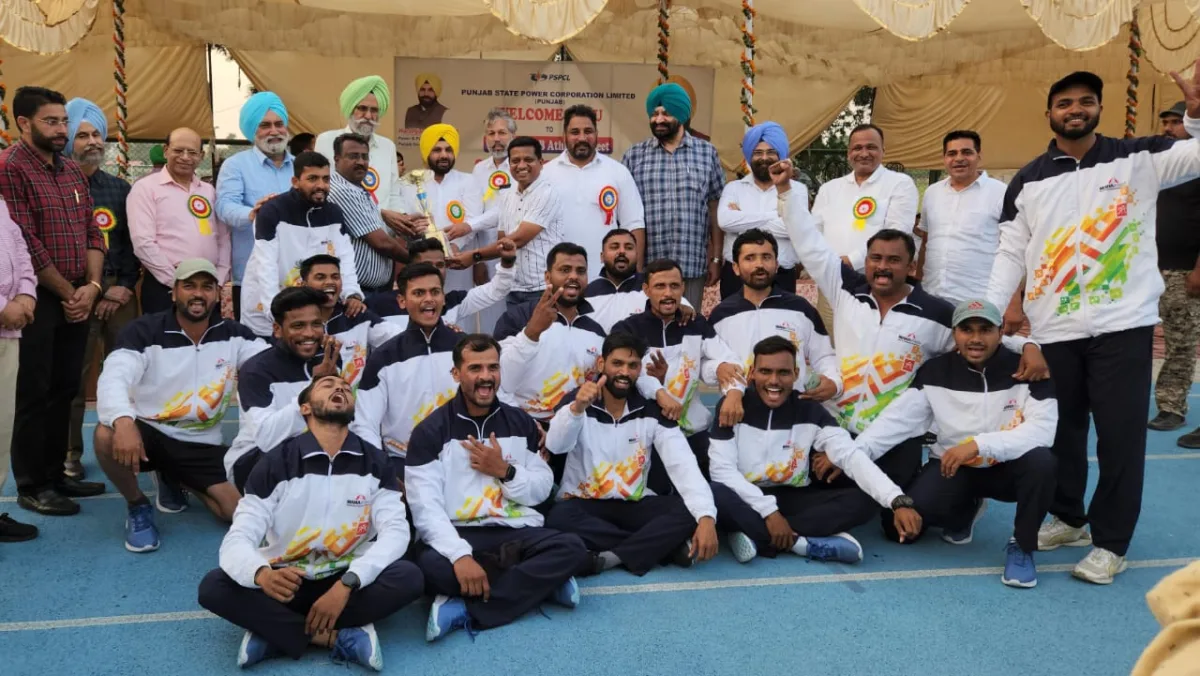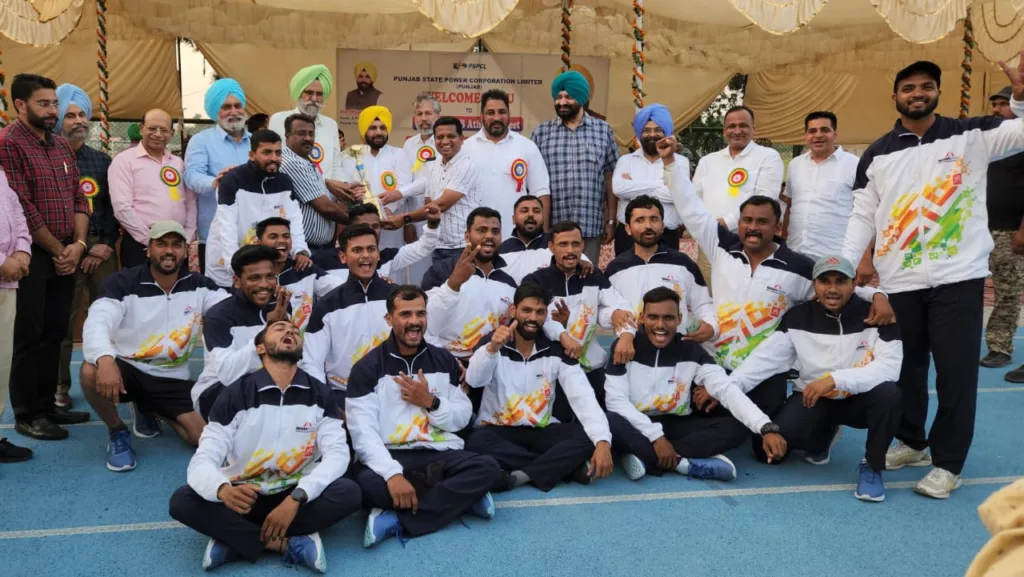 He said that AAP Government led by Chief Minister Punjab Bhagwant Singh Mann is committed to fulfill the promises and the facility of free 600 units bimonthly/300 units monthly was provided to all domestic consumers of the Punjab from July 1, 2022 and since then around 90% domestic consumers receiving Zero power bills.
He said that the Punjab government has also consistently supported and encouraged sporting activities to nurture talent and improve physical fitness of its workforce. The athletes' performance in this athletic competition serves as a testament to these efforts.
Jasbir Singh Sur Singh, Director Administration PSPCL expressed gratitude to all participants and supporters for their pivotal roles in the successful conclusion of the athletic meet. He said that he hoped that all the participants and guests representing various power utilities from different states and UTs must be carrying cherished memories of the event along with them.
45th AIESCB Athletics Meet hosted by PSPCL ends on high notes at Patiala. The well orgainsed hosting is done under the command of PSPCL's sports incharge Madhuri Saxsena who herself is an asian medalist in athletics and arjuna awardee.'
Results
SHOT PUT
PRAVEEN BORAWAKE(MH)
10:83 MTR
SURAJ SENI (BBMB)
20:63 MTR
HANUMANT KADAM (MH)
10:56MTR
1500MTR
PARVINDER KUMAR (HR)
04:50::05sec
RAHUL KUMAR (BBMB)
04:51::32sec
VIJAY TIWARI (MP)
04:59::46sec
LONG JUMP
SAJEEV(IPGIL)
6.00MTR
VIJAY KUMAR THAKUR (MP POWER)
5.78 MTR
AMANDEEP (PCPL)
5.75 MTR
400M
NAVEEN KHAMBRA (HPSG)
54.59 sec
VIJAY BARHE (MHADICCOM)
59.96sec
KAPILDEV (HPSEB.LTD)
1:00.63sec
100 M
GULABSING P. VASAVE (MHADICCOM)
11.62sec
JONNY ( HPSG)
11.96sec
SAINATH BALIRAM MASANE (MHADICCOM)
12.00sec
4*400M R
HPCG(HR)
1.SAJAL
2.SOHAN
3.SANDEEP
4.VIKASH KUMAR
MAHADICCOM(MH)
1.GULABSINGH VASAVE
2.PRADIP VANJARE
VIJAY BARHE
4.SHUBHAM NIMBALKAR
PSPCL(PB)
1.VIKRAMJEET SINGH
2.JATINDER SINGH
KULVINDER SINGH
4.JASBIR SINGH
"Exciting news!  News Portal royalpatiala.in is now on WhatsApp ChannelSubscribe today by clicking the link and stay updated with the latest updates! " Click here !