Another setback for health services at Shutrana block
Kanwar Inder Singh/ royalpatiala.in
With just few days remaining when Punjab Chief Minister Bhagwant Mann is going to dedicate 75 Mohalla clinics to the residents of Punjab by 15th August 2022 to mark the 75th Independence Day, the health services at reserved and backward assembly constituency Shutrana, in Patiala district is crumbling day by day due to the absence of doctors.
Recently, Punjab health department had issued transfers orders of total ten medical officers, senior medical officers out of Shutrana block, making difficult for the local residents to get affordable medical treatment at government hospitals, health centres.
Today, again one medical officer Dr Akshay Bhargav, working at mini primary health centre (PHC) , Kulara, block Shutrana, district Patiala has been transferred to the office of director health and family welfare, Punjab, rubbing salt on the wounds of local residents of this reserved and backward constituency.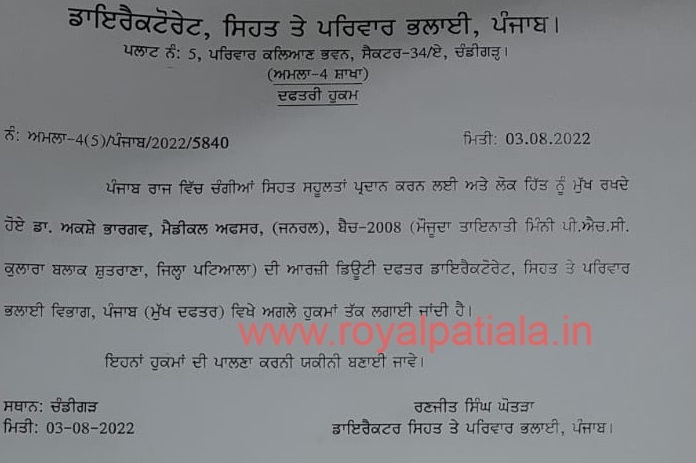 Another setback for health services at Shutrana block. Those who were transferred few days ago includes six medical officers-Dr Harpreet Singh (Surgeon) has been transferred to CHC Tripuri (Patiala), Dr Sulekha to Jagraon, Dr Puneet Kansal (Paediatrician)  to Bhadson (District Patiala), Dr Harsimran kaur (Medicine) to CHC Model Town Patiala, Dr Sahil Jain to CHC Bhadsahpur, Samana and Dr Satish has also been transferred to SHC, Kakrala, Samana. Similarly, three senior medical officers (SMOs) namely Dr Varinder Garg, SMO, CHC Patran and Dr Darshan Kumar, PHC, Shutrana has been transferred to Mata Kaushaliya Hospital, Patiala and Dr Sandeep, CH Shutrana to Dudhansadha . Even a dental surgeon, Dr Shalley has been transferred to Bahadurgarh.
But, in contrast to this, the health facility in Shutrana reserve constituency in Patiala has started to crumble after the recent transfers of six medical officers, three senior medical officers and one dental doctor out of Shutrana block. There are three posts of senior medical officers (SMOs) in Shutrana block at community health centre (CHC) Patran, primary health centre (PHC) Shutrana and Badshahpur and the govt fail to appoint any doctor on these posts.
Health facility going to collapse in Shutrana block after transfers of SMOs, MOs, dental surgeon
August 3,2022