Asia cup 2023: India qualifies for final, possibilities of first ever Indian v/s Pakistan Asia cup finals-Drishty Sharma
Drishty Sharma/ Amritsar/ 13 September 2023
India qualifies for the Asia Cup, 2023 final by beating Sri Lanka by 41 runs on Tuesday. With India entering the final and Bangladesh bowing out of the Asia Cup either Pakistan or Sri Lanka can get the remaining second support for the summit clash.
Sri Lanka will meet the 'men in green'team on Thursday and this Sri Lanka v/s Pakistan match result will decide Either Pakistan will play final or Sri Lanka will qualify for the final against India on Sunday.
In case the semi-final is a washout , the team having better run rate will join India in the Asia Cup final. As Sri Lanka is having better run rate  than Pakistan if rain occurs then Sri Lanka will easily enter in the final against India that is going to held on 17th September (Sunday), Columbo. But if the semi-final will not washout, then there is a chance for Pakistan team to defeat Sri Lanka and join India in the final and this will be the first time in the history of Asia Cup, one-day match that India will play against Pakistan in the finals .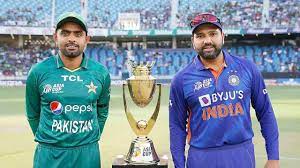 Asia cup 2023: India qualifies for final, possibilities of first ever Indian v/s Pakistan Asia cup finals-Drishty Sharma. Record breaker  Indian team has won the Asia Cup for seven times while Pakistan has lifted the trophy twice and Sri Lanka has lifted the Asia cup trophy for six times including 2022 victory.
Note: The writer is a student of final year of journalism and mass communication,  Guru Nanak Dev University, Amritsar.