Black Diwali for 4370 PESCO employees; Powercom, Transcom shunting them out
Kanwar Inder Singh/ royalpatiala.in/ Chandigarh
Punjab state power corporation limited (PSPCL), one of the major employer of Punjab ex serviceman corporation (PESCO) staff to secure its installation, infrastructure, thermal plants, offices etc, has ordered the removal of its 2951 employees. Similarly 1419 PESCO employees attached with Punjab state transmission corporation limited were also shortlisted, to be removed.
In an order issued by CMD Punjab state power corporation limited A Venu Prasad (IAS), himself, regarding the removal of these Punjab ex serviceman corporation (PESCO), employees, citing financial loss.
In a communiqué forwarded by Punjab state power corporation limited (PSPCL) CMD to all its directors (distribution, finance, administration, commercial and generation), had said " it has been observed that 2951 PESCO employees , who are working in PSPCL, are in excess numbers . In the last  financial year 2019-2020, PSPCL has incurred loss to Rs 1158 Crore. In the BODs meeting held on 22.9.2020, the representative of Finance Department, Government of Punjab expressed the need to reduce the losses and also talked about the state government contribution of Rs 15000 Crore to PSPCL under UDAY Scheme for clearing of debt. One of the factors contributing to the loss is employee cost which is increasing day-by-day."
CMD further wrote," in view of this it is requested to reduce the number of manpower deployed through PESCO . It has also been observed that there are too many PESCO supervision officers deployed in PSPCL. Therefore, it is requested that PESCO employees who are above 60 years may be immediately relieved from their duties. Every director will reduce the staff strength ranging from 15% to 25% under his organistaion wef 1st November 2020. The exercise in this regard may be completed and a report may be submitted to the CMD by 12th October, 2020 positively"
When contacted the PESCO Managing Director Brig. I S Gakhal, he said' he had already taken up the matter with the PSPCL/PSTCL authorities. PESCO employees are safeguarding the installation, infrastructure, buildings etc of these corporations. We had already inform the consequences of the reduction of security staff and if any miss happening occurs, due to shortage of security staff, we will not be held responsible for that".
Punjab Ex-Servicemen Corporation (PESCO) is "Registered through GeM" for provision of security personnel and other manpower on outsourced basis. The Punjab Government by an Act passed by the State Legislative Assembly enacted the Punjab  Ex-servicemen Corporation (PESCO) Act on 10 Aug 1978 for the welfare and uplift of ex-servicemen, war widows and their dependents in the State. PESCO is the first Ex-servicemen Corporation formed in India.
Jasbir Singh an ex employee of poercom said "last month also, PCPCL management has abolished 3216 posts.The consumer is increasing day by day-be it industrial, domestic, grids are made to manage the demand-supply chain, but the power com is reducing its staff, in-spite of recruiting the new staff to overcome the burden."
PSPCL abolishes 3216 posts from chief engineer to beldar level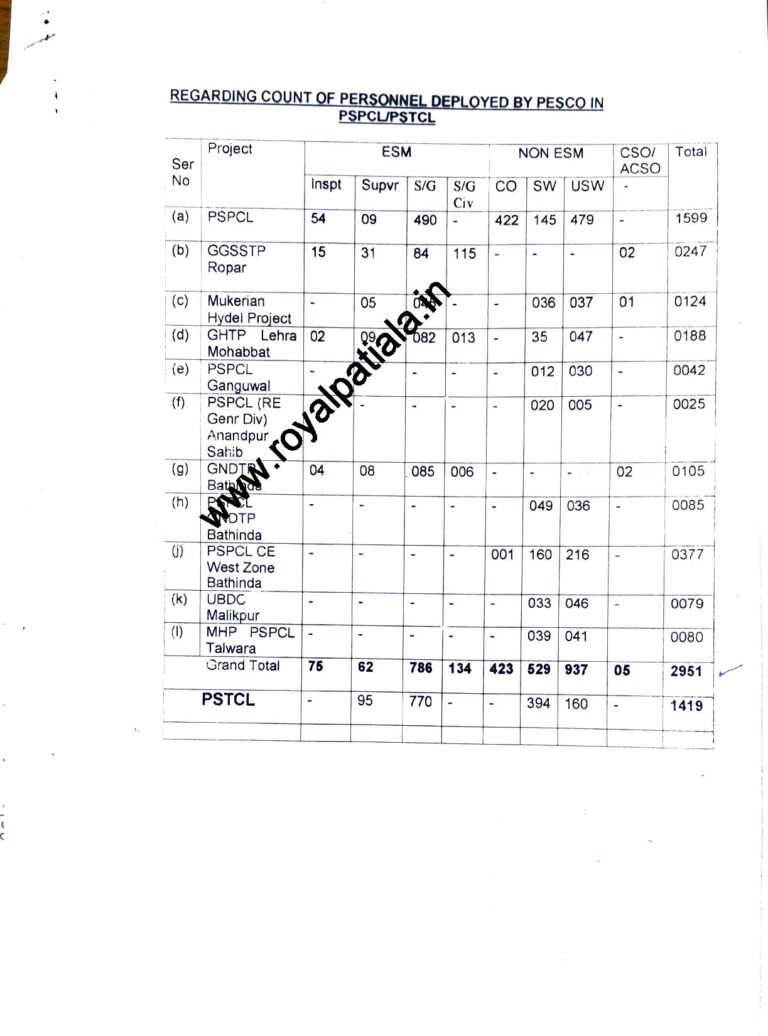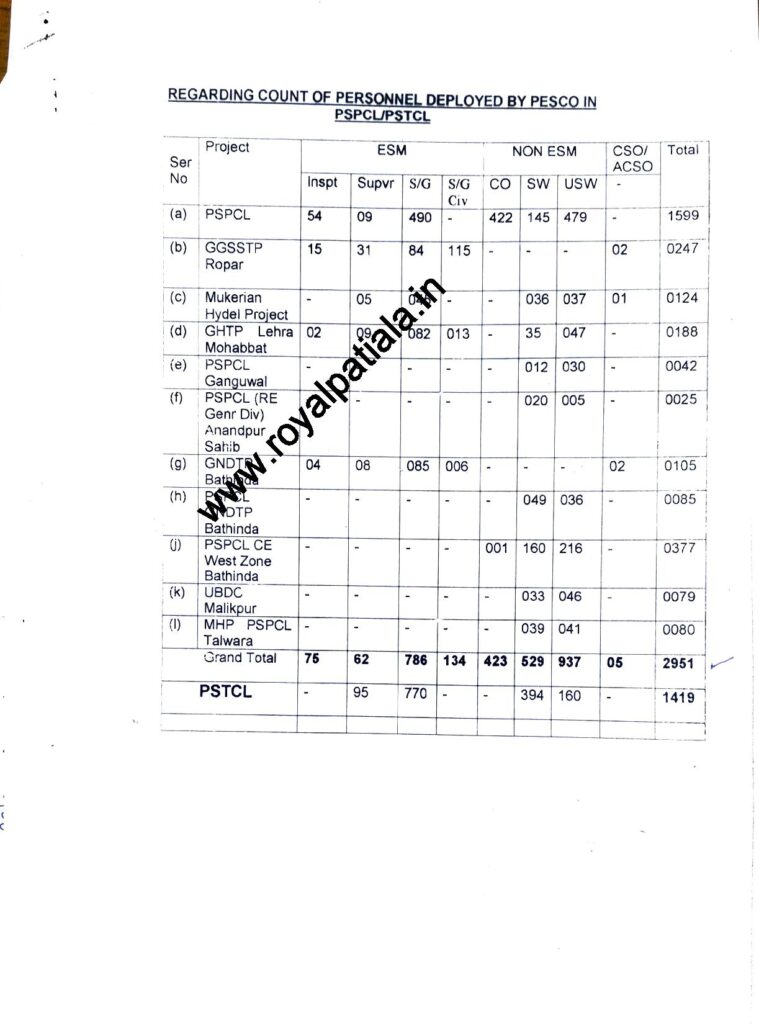 October 7,2020