Father of India's Green Revolution is no more
Kanwar Inder Singh/ royalpatiala.in News/ September 28,2023
M.S. Swaminathan, the legendary agricultural scientist and a key architect of the country's 'Green Revolution,' passed away at his residence in Chennai on September 28, 2023 at around 11.30 am. He was 98.
He is survived by three daughters – Soumya Swaminathan, Madhura Swaminathan and Nitya Rao.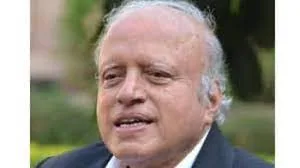 M.S. Swaminathan was instrumental in developing high-yielding varieties of paddy that helped ensure India's low-income farmers produce more yield.
In 1999, he was one of three Indians, along with Gandhi and Tagore, on TIME magazines' list of the '20 Most Influential Asian People of the 20th Century'. Swaminathan has received numerous awards and honours, including the Shanti Swarup Bhatnagar Award, Ramon Magsaysay Award and the Albert Einstein World Science Award.
Father of India's Green Revolution is no more. Prime Minister Narendra Modi shared his condolences on his X account (earlier twitter) "Deeply saddened by the demise of Dr. MS Swaminathan Ji. At a very critical period in our nation's history, his groundbreaking work in agriculture transformed the lives of millions and ensured food security for our nation. Beyond his revolutionary contributions to agriculture, Dr. Swaminathan was a powerhouse of innovation and a nurturing mentor to many. His unwavering commitment to research and mentorship has left an indelible mark on countless scientists and innovators. Beyond his revolutionary contributions to agriculture, Dr. Swaminathan was a powerhouse of innovation and a nurturing mentor to many. His unwavering commitment to research and mentorship has left an indelible mark on countless scientists and innovators."