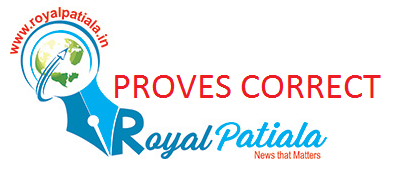 Foresight of royalpatiala.in News proves correct; PM Modi shared Bibi Jagir kaur photo after akali dal expelled her
Kanwar Inder Singh/ royalpatiala.in
As highlighted earlier by News Website royalpatiala.in that "Operation Lotus" is being carried by BJP in upcoming SGPC president elections, the same came clear when today the official youtube page of Prime Minister Narendra Modi . He has shared a file photo of his with former shiromani gurudwara prabahndak committee president and president shiromani akali dal (women wing) Bibi Jagir Kaur before going to pay obeisance at a Kirtan darbar organized on the eve of 553rd Gurpurab of Guru Nanak Dev ji in New Delhi.
The photo has sent a clear message that Bibi Jagir kaur is being supported by the BJP in the upcoming SGPC president elections on November 9,2022 and has created ripples in the Punjab politics.
Earlier in the day, Shiromani Akali Dal (SAD) had expelled Bibi Jagir Kaur former women's wing leader and three-time former Shiromani Gurudwara Parbandhak Committee (SGPC) president Bibi Jagir Kaur over alleged anti-party activities. This was after Jagir Kaur failed to appear before a disciplinary committee headed by former minister and senior akali dal leader Sikander Singh Maluka and reply to a show-cause notice after the party suspended her on November 2. The only woman president of the SGPC so far, she said her expulsion from the party is unconstitutional.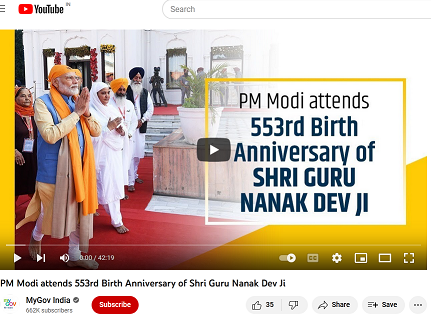 Bibi Jagir kaur , once a loyalist of the Badal family, has created a controversy when Kaur announced that she would again contest for the post of the SGPC president and that the "liifafa' culture of the SAD, in which the name of the SGPC president comes in an envelope from the SAD president's house, should end". She had been pressing to be the party's nominee for the SGPC presidential poll.
Foresight of royalpatiala.in News proves correct; PM Modi shared Bibi Jagir kaur photo after akali dal expelled her. Shiromani akali dal had earlier slammed National Commission for Minorities chairman Iqbal Singh Lalpura for allegedly seeking support for Bibi Jagir Kaur's candidature for the poll and trying to break the SGPC.
Last week Shiromani Akali Dal (SAD) had urged President Droupadi Murmu to dismiss Iqbal Singh Lalpura from the post of chairperson of National Commission for Minorities alleging that he was directly interfering in the religious affairs of the Sikh community by trying to disband the Shiromani Gurdwara Parbandhak Committee (SGPC).
Cheema denies "Operation Lotus" in SGPC elections ; two member SAD team to meet Bibi Jagir Kaur
November 7,2022