Gakhal-Surjit National Sports Day Hockey-2023 begins ; 18 teams are participating
Kanwar Inder Singh/ royalpatiala.in News/ August 27,2023
Exhibiting good hockey skills & better co-ordination,  Rail Coach Factory, Kapurthala & CRPF, Jalandhar in girls category while Surjit Hockey Academy, Jalandhar in boys (under 18 years) category earned full points in their first league matches in the Gakhal-Surjit National Sports Day (Five-a-Side) hockey tournament, started here today at local Surjit Hockey Stadium Burlton Park, Jalandhar .
As Many as 18 teams Boys (under age 18 years), Girls (Open), Junior (under age 14 years) & Sub Junior (under age 10 years) Categories are participating in this 3 days long hockey tournament to commemorate the birth anniversary of Indian hockey legend late Olympian Major Dhyan Chand which is celebrated every year as National Sports Day in India.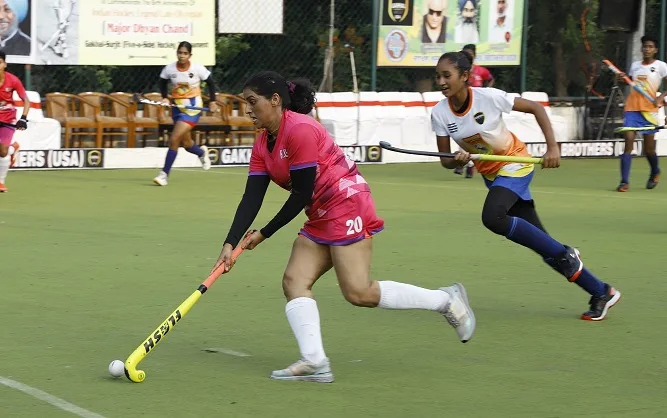 In today's matches, in the girl's section, Rail Coach Factory, Kapurthala defeated Brockkie Jalandhar by 14-1 while CRPF Jalandhar beat Khalsa college Jalandhar by with a margin of 14-4  In the boys' junior (under 18 years) category, Shrey Hockey, Jalandhar defeated  Alfa Hockey Jalandhar by 6-5 while match between Surjit Hockey Academy and  Brocki Jalandhar ended 6-6 draw.
In the Junior (under 14 years) category, Surjit Hockey Academy defeated Alpha Hockey Jalandhar by 8-7 while Shrey Hockey Jalandhar defeated Hockey Jalandhar  by a margin of 9-4. In the Sub Junior (under 10 years) category, Hockey Jalandhar edged our Alpha Hockey Jalandhar by 2-1 while Surjit Hockey Academy  defeated Shray Hockey Jalandhar with a margin of 4-3 to enter the final round.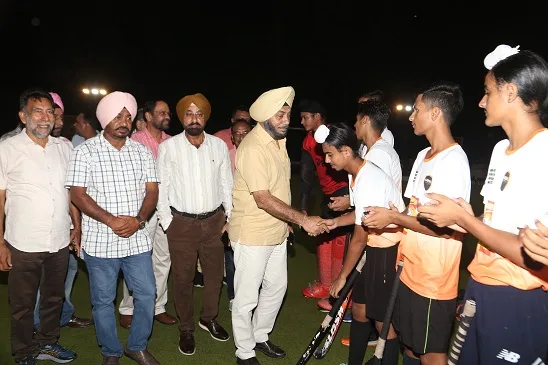 Gakhal-Surjit National Sports Day Hockey-2023 begins ; 18 teams are participating. Earlier, the tournament was inaugurated by the Moscow Olympics gold medalist and Olympian Surinder Singh Sodhi, IPS (Retd). Today's Matches (28-08-2023):
1. CRPF  Jalandhar vs Brocki Jalandhar (5.00 pm-Girls Category)
2. Surjit Hockey Academy vs Round Glass Academy (5.45pm-Boys Section)
3. Rail Coach Factory, Kapurthala vs Khalsa College, Jalandhar (6.30 pm – Girls' Division)
4. Hockey Jalandhar vs Share Hockey (7.15 pm-Boys Category)