IIT Ropar ranked amongst top 25 in NIRF  rankings
Bahadurjeet Singh/Rupnagar,June 5, 2023
Indian Institute of Technology(IIT),Ropar has been placed in top#25 among all Engineering institutes as per India Rankings 2023 conducted by the National Institutional Ranking Framework (NIRF), Ministry of Human Resource Development, Government of India.
Union Minister of State for Education, Dr. Rajkumar Ranjan Singh, released the NIRF 2023 rankings today (Monday, 5th June 2023). There has been an increase in the number of participating colleges in NIRF 2023. A total of 8686 Higher Educational Institutes have participated this year, compared to last year's 7254. The rankings were announced in 13 categories – Overall, Universities, Colleges, Research Institutions, Engineering, Management, Pharmacy, Medical, Dental, Law, Agriculture and Planning, Agriculture and Allied Sectors, and Innovation.
Prof. Rajeev Ahuja, Director, IIT Ropar, commented "IIT Ropar has achieved an impressive ranking in the NIRF rankings, being placed 22nd in the Engineering Category, 46th in Research, and 33rd in the Overall Category In Engineering Category our ranking is same as last year but in overall ranking we have improved by two places whereas in research ranking we entered first time in top 50. This achievement is a testament to the hard work and dedication of IIT Ropar fraternity.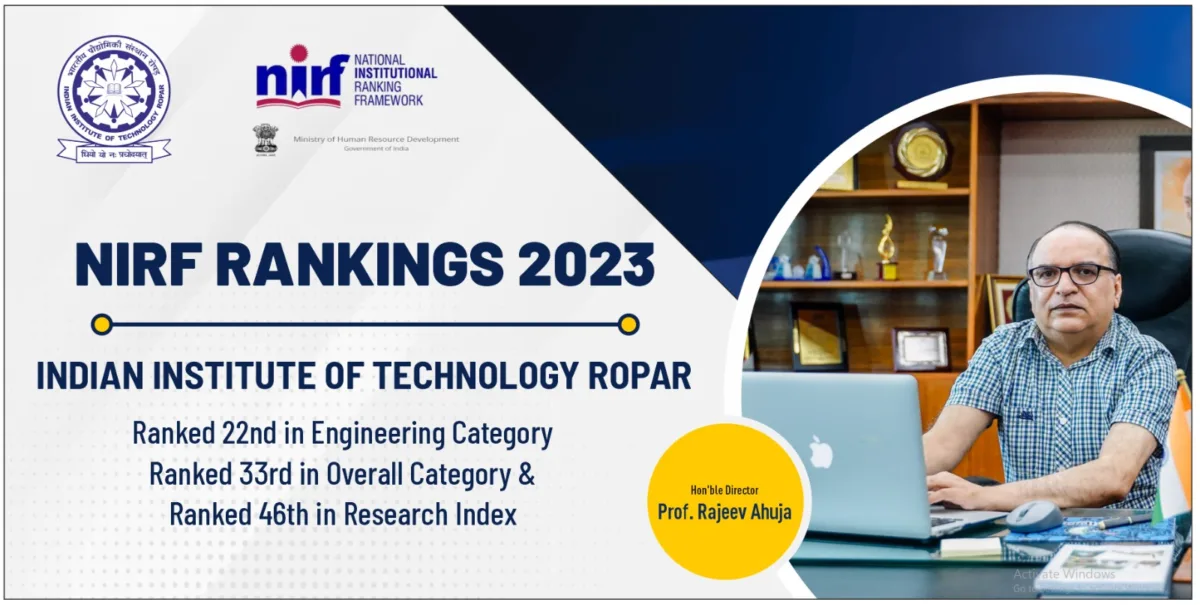 IIT Ropar ranked amongst top 25 in NIRF rankings . Prof. Rajeev Ahuja, Director, IIT Ropar,  said "We are committed to our goal for promoting 'innovation and collaboration,' thereby striving for excellence in research and innovation. This ranking has boosted our morale to bring more technological solutions for our mission towards 'Atmanirbhar Bharat' and 'Make In India.' I hope that in future we shall maintain high rankings, helping society and our Nation by giving technological solutions."