IIT Ropar ranked on top in graduate quality index
Bahadurjeet Singh/Rupnagar
The legacy of IITs have been very well kept by IIT Ropar as it has been ranked on top in "Graduate Quality Index" as measured by their earning potential.  "Graduates of IIT Ropar are not just among the best of India. They could be the most promising students on the planet—at least, as measured by their earning potential," says Jeff Horwich, Senior Economics Writer at Federal Reserve Bank of Minneapolis.
To create a standardized, cross-border measure of "quality" of students based on their alma maters, Minneapolis Fed Senior Research Economist Todd Schoellman (with co-authors Paolo Martellini and Jason Sockin respectively from University of Wisconsin-Madison and University of Pennsylvania ) taps a massive international database from the career site Glassdoor. The database provides them with earnings and detailed résumés for more than 2 million workers.
IIT Ropar prepares students largely for more-lucrative STEM fields (science, technology, engineering, and math) giving a natural leg up in the system of recruitment. The data in the paper measured and reflected the average earnings of a college's graduates, adjusted to a common labor market, and is equal to the average human capital of a college's graduates under standard assumptions, in which case it is both internationally comparable and economically scaled.
On this Professor Rajeev Ahuja, Director, IIT Ropar while congratulating the Students and faculty said, "The data helps an Institute to know that graduate quality matters for a number of outcomes of interest for growth and development. It is a strong and robust predictor of the propensity of a college's graduates to innovate, engage in entrepreneurship, or become executives and it has also focused on how graduate quality varies substantially and is strongly correlated with development."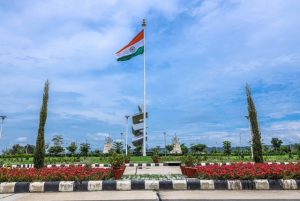 IIT Ropar in 2017 introduced a rather innovative and unique curriculum which emphasized on Interdisciplinary approach to teaching, with strong grounding on Humanities, societal content and project-based learning.
Indian Institute of Technology Ropar was founded in 2008 and is located on the river Satluj. The campus sprawls on 500 acres of land. The land for the permanent campus of the institute was handed over in 2008, construction commenced on 15th January 2015 and the Institute moved to its permanent campus in 2017 with State-of-the-Art buildings and labs. With a state-of-the-art infrastructure comprising housing for 3000 students, 170 faculty and 200 staff members, a magnificent entrance, cutting-edge laboratories, libraries, sports facilities, spaces for other extra and co-curricular activities and the unique design of the hostels with large common spaces, the Institute has come alive.
IIT Ropar campus has received a 5-star Green Rating for Integrated Habitat Assessment for Large Developments (GRIHA LD) for campus master plan. The Institute has won several accolades in Rankings and has been actively involved in research and development right from the beginning. The institution has developed various technology-based solutions to combat COVID-19 crisis and has shared them with the society at large.
October 3,2022