Lamrin Tech Skills University all set to fly high-Kaura
Bahadurjeet Singh/Rupnagar,June 6, 2023
Lamrin Tech Skills university Punjab is all set to fly high, said chancellor of the university and Adviser NSDC, Delhi. Dr Sandeep Kaura while talking to media persons.
He said that the University is aiming at enrolling fresher's for courses in the area of  IBM backed Computer Engineering with Artificial Intelligence and machine learning, Data Sciences, IoT and Cyber Security in focus (600) seats, Tata Technologies and Hexagon backed Mechanical Engineering (240) seats, Steller School of Real Estate (MBA in Real estate 120seats), HTMI backed Hotel Management (120 seats) and other Engineering and Technology  programs. The University in collaboration with Logistics Sector Skill Council will also admit students in BBA (logistic) (60 seats)for the first time in region.Apart from these courses, total of 2000 students will be admitted in the Centre of Excellence (COE). The popular courses like B. Pharma(100seats), B.Pharma (practice)(40 seats) and M.Pharma(30 seats), Business and Commerce(180seats), Education(100seats), Legal studies( 60seats), are also being offered at graduation Post Graduation and research level are offered.
Partnering with global Tech giants to structure the curriculum,mentored by leading industry experts, practitioners and academicians, making students industry ready through training in skill based courses, the university aims at making India aleader in the skill based workforce worldwide.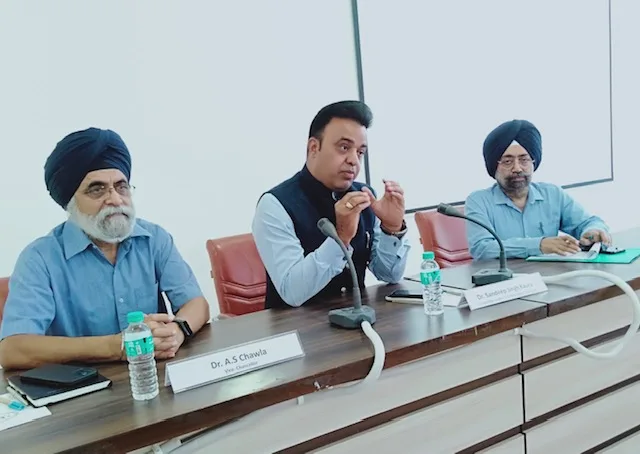 He said that in collaboration with NSDC National Skill Development Corporation the university has launched under COVT(Centre of Vocational Training)and COST(Centre of Specialized Training) programs such as Learn and Earn Program and other programs covered under National Skill Qualification Framework. The Learn and Earn Program has already received massive response(300) seats in the current session and due to the in enquiries,number is likely to go up to has increased  1000 seats in the coming session. The skilling education and earning going simultaneously provides an opportunity to those who otherwise cannot afford education.
The focus is on practical output. "Our beginning is with the aim of meeting aspiration of industry and students. It is the IBM andTata technologies that shall decide the direction of education of our students" said Dr. Sandeep Kaura,"We will make sure that fee does not become the handicap for the meritorious but aspiring students with humble background. We have tied up with NSDC for easy, collateral free financing to meet the requirements of the students" he added. Infrastructure is ready with state of art facilities".
Lamrin Tech Skills University all set to fly high-Kaura also added that an International center will be established in the University with the help of Govt. of India and University will be providing language training to budding aspirants in the fields such as Nursing, Welding & Other Technical filed, Soft & Future Skills and AI.The students trained in the university will be deployed abroad, or be the entrepreneurs.The entire process will be  undertaken to help the youth for not wasting huge resources in the hands of agents. The Chancellor highlighted that the university is conducting entrance test on 9th June 2023 and 23rd June, 2023 to select the students for B.Tech Course (CSE), The admission process will be done by experts from IBM  on merit basis. The university is expecting to admit six thousand students this year combining all the courses together.  This will provide a boon to the young students to fulfill their dreams and choice of the course they aspired for bright career. Majority of these programs will be residential for which excellent hostel facilities are ready.