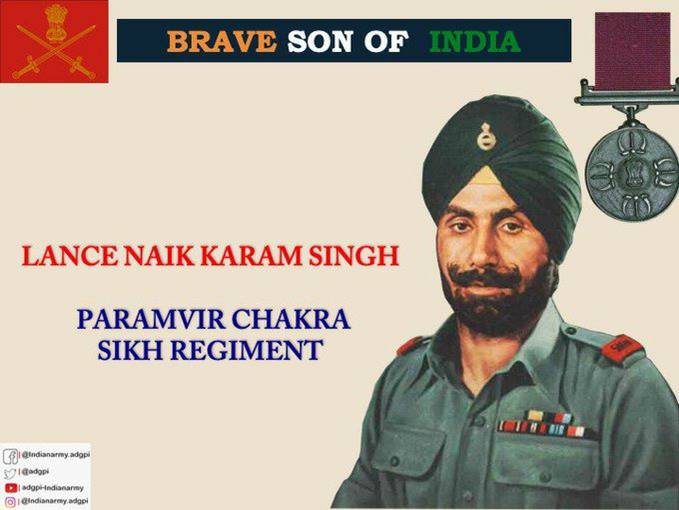 Lets remember the hero's of the battle of Tithwal sector of Indo-Pak conflict
Kanwar Inder Singh/ royalpatiala.in/ Chandigarh
Lance Naik Karam Singh was initially commissioned in the Sikh Regiment on 15 September 1941. It was for grabbing the hold on the Tithwal sector; that earned Lance Naik Karam Singh; the Param Vir Chakra. It was India to capture the Tithwal sector in Jammu and Kashmir on 23 May 1948 but soon it lost that hold due to the constant multiple battles and attacks from Pakistan. Karam Singh showed his invincible heroic spirit in this war and fought so bravely that even the enemy had to break off the attack.
On 13 October 1948 the Pakistani attackers tried to recapture the Richhmar Gali of the South and Nastachur Pass of the East of Tithwal respectively and they planned to re-attack and capture the Richmar Gali. Lance Naik Karam Singh at that time was commanding the section of Richmar Gali. The fight began with an initial attack of howitzers and guns. All the bunkers were destroyed by heavy firing from the enemy's side. All the communication links and lines got damaged and there were no ways for Karam Singh to communicate with the commander, in order to ask for any assistance and updating the situation. But Lance Naik Karam Singh did not give up his high morale and went bunker to bunker to give aid to the wounded crew men, he was himself badly injured, but he showed the attitude of a lion and rescued two injured comrades and brought them back to the main company position.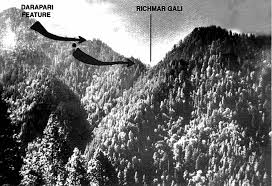 The enemy was not tired and they attacked eight times on that single day. In the fifth attack by the enemy, Lance Naik Karam Singh got badly injured, but he refused to set back and continued his high spirited battle with the enemy. The enemy got to grab its positions near the Frontline but Karam Singh was completely fearless stepped forward in front of the enemy and bayoneted the invader to death. Singh overpowered the enemy so much that the enemy became clueless and they finally decided to set back. The battle of Tithwal would always be remembered for the great actions of Lance Naik Karam Singh; his daring spirit had been commendable that made him a true deserver of the Param Vir Chakra.
Besides  Lance Naik Karam Singh, Naik Sarwan Singh of Sikh Regiment displayed extreme #bravery and undaunted #courage during operations against enemy in Tithwal Sector. Awarded #VirChakra(Posthumous). Sepoy Kabal Singh and Sepoy Sher Singh displayed remarkable #courage and determination. Posthumously Awarded #VirChakra. Rifleman Shangara Singh Punia displayed undaunted #courage and determination during operations against enemy in #Tithwal Sector awarded #VirChakra.
Let's remember the hero's the battle of Tithwal sector of Indo-Pak conflict and pay our tributes to the brave soldiers.
October 13,2020