MRSPTU Convocation: Governor Purohit Stresses Education's Role in Positive Change; 135 students honored with gold, silver medals
Kanwar Inder Singh/ royalpatiala.in News/ October 17,2023
The second Convocation of Maharaja Ranjit Singh Punjab Technical University (MRSPTU) was graced by an inspiring address from Punjab's honorable Governor,  Banwari Lal Purohit. The event celebrated significant achievements and highlighted the transformative power of education.
In his address, Governor Purohit underscored the institution's historical significance, named after the iconic Maharaja Ranjit Singh, a symbol of progressive reforms and education. He emphasized the immense potential of education as a catalyst for positive change, not only for individuals but for society and the world.
Governor Purohit reminded the audience of India's rich tradition of valuing knowledge, calling for a revival of the country's legacy as a global hub of education, once known as Vishwaguru. He also stressed the pivotal role of technical education in the nation's development, ensuring human resource development, enhanced industrial productivity, and an improved quality of life.
Purohit assured his unwavering support for MRSPTU in providing quality technical education and nurturing employable professionals. He acknowledged pressing global challenges in food security, water conservation, clean energy, and climate change, advocating for science and technology's role in addressing these issues.
The Governor encouraged academic research, skill development excellence, and fostering entrepreneurship through collaborations with industry partners. He emphasized the importance of turning inventions into real-world solutions.
Governor  Purohit highlighted the significance of giving back to society, where scientists and engineers with integrity and social conscience can contribute significantly to the welfare of society. To the graduating students, he delivered a powerful message, encouraging them to be risk-takers and innovation-makers, citing examples like Thomas Edison's multiple failures before inventing the light bulb.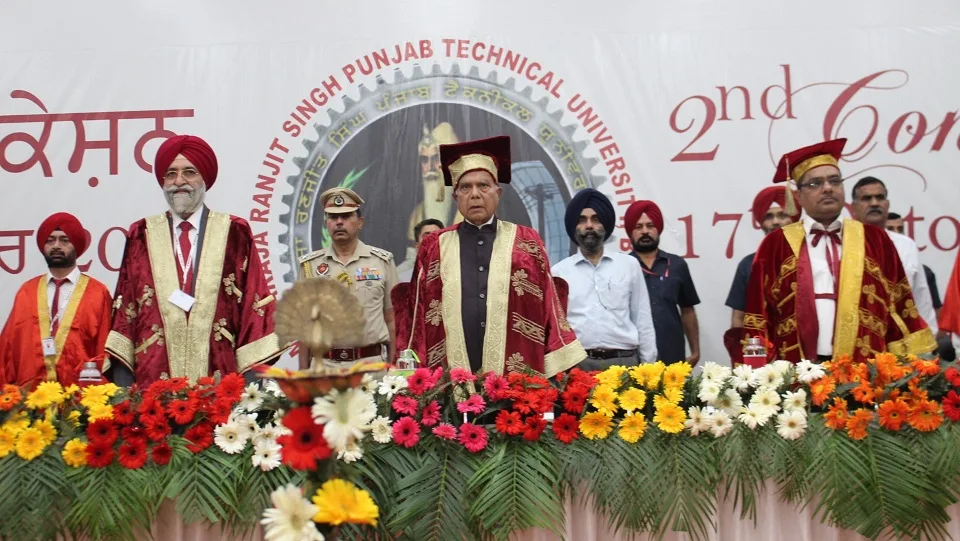 Purohit reminded the students that they are not defined by their failures but empowered by them. Learning, he said, is a lifelong process, and individuals should never limit their potential due to self-imposed constraints.
In conclusion, Governor Purohit invoked the words of Mahatama Gandhi, Pandit Jawahar Lal Nehru and Maha Kavi Subramania Bharati, encouraging students to excel in their careers, make their alma mater proud, and value their education with humility. He blessed the graduating students and looked forward to the bright future that belongs to them.
Governor  Banwari Lal Purohit's visionary address echoed the transformative power of education, setting the stage for MRSPTU to contribute to India's resurgence as a global hub of learning and innovation.
On this occasion the MRSPTU conferred Honris Causa degrees on renowned Industrialist Amrit Sagar Mittal for his outstanding contributions to the agriculture business industry (Sonalika group) and renowned Scientist Er. Surinder Singh in the field of engineering and technology. This recognition highlighted their substantial contributions to their respective fields.
The Vice Chancellor, Prof. Buta Singh Sidhu, delivered an annual report highlighting the illustrious achievements of MRSPTU. He expressed his pride in the university's rapid growth and praised the Governor for delivering the convocation address.
Prominent among those present on the occasion include Principal Secretary-cum-Chairman Board of Governor, MRSPTU,  Vivek Pratap Singh, Director, IIT Ropar, Prof. Rajeev Ahuja,  IKGPTU, Vice Chancellor, Prof. Susheel Mittal, Bathinda Deputy Commissioner, Showkat Ahmad Parray, Senior Civil Police officials, besides University officials.
*Highlights of MRSPTU 2nd Convocation*
– *Girls Shined*: As many as 135 graduate, postgraduate, and Ph.D. students were honored with Gold and Silver Medals. The standout aspect was the significant achievement of female students, with a majority of them clinching Gold and Silver Medals, reflecting the institution's commitment to gender equality in education.
– *Colorful Academic Procession*: The convocation began with a vibrant academic procession led by Registrar Dr. Gurinder Pal Singh Brar, featuring dignitaries, Honorary Degree recipients, and Governor  Banwari Lal Purohit. This procession symbolized the grandeur and significance of the event.
– *Praise for the University*: Governor Banwari Lal Purohit congratulated Vice Chancellor Prof. Buta Singh Sidhu and university officials for their remarkable achievements and initiatives. The university has rapidly established itself as a reputable institution, reflecting its commitment to excellence in education.
"Exciting news!  News Portal royalpatiala.in is now on WhatsApp ChannelSubscribe today by clicking the link and stay updated with the latest updates! " Click here !