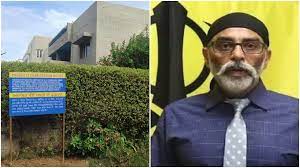 Pannu "falls in a pit that he prepared for others"; NIA confiscates Gurpatwant's properties on the basis of Amritsar Police's FIR
Kanwar Inder Singh/ royalpatiala.in News/ September 23,2023
Tightening its noose around Canada-based' designated individual terrorist' Gurpatwant Singh Pannu, the National Investigation Agency (NIA) on Saturday confiscated the house and land of the self-styled General Counsel of the outlawed Sikhs for Justice (SFJ)out fit in Amritsar(Punjab) and Chandigarh UT.
The action, which comes as a big boost to the country's crackdown on the terror and secessionist network being operated from various countries, including Canada, followed confiscation orders passed by the NIA Special Court, SAS Nagar,Mohali.
Pannu has been on NIA's radar since 2019, when the anti-terror agency had registered its first case against the terrorist, who has been playing a major role in promoting and commissioning terror acts and activities, and spreading fear and terror in Punjab and elsewhere in the country through his threats and intimidation tactics. Non-Bailable warrants of arrest were issued against Pannu by the NIA Special Court on 3rd February2021 and he was declared a' Proclaimed Offender(PO)' on 29th November last year.
NIA investigations have revealed that Pannu's organisation, Sikhs for Justice was misusing the cyber space to radicalize gullible youth and to instigate them to undertake terrorist crimes and activities. It further emerged during the NIA Investigations that Pannu was the main handler and controller of the SFJ. Sikhs for Justice was declared as an 'Unlawful Association' by the Government of India, vide notification No. S.0.2469(E)dated 10th July 2019.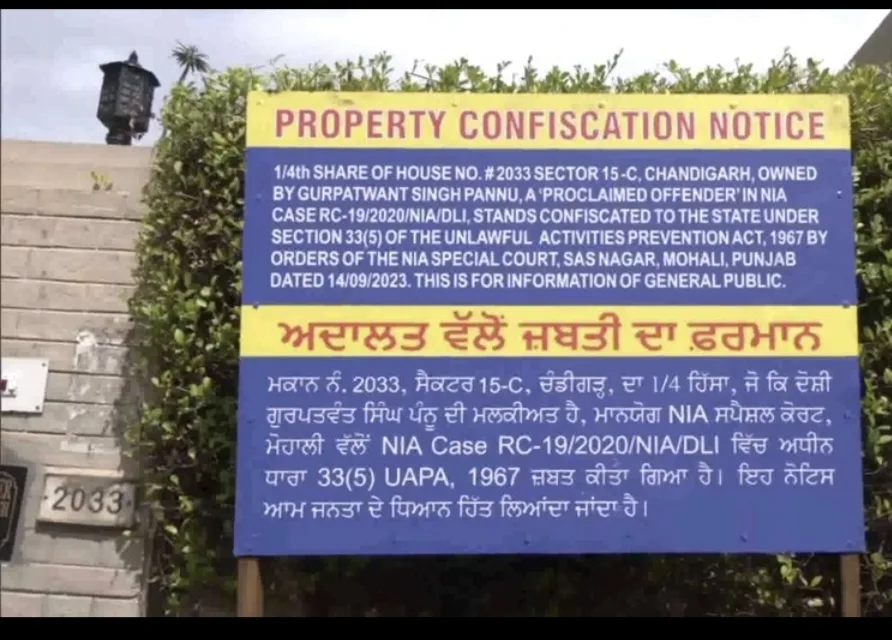 Pannu "falls in a pit that he prepared for others"; NIA confiscates Gurpatwant's properties on the basis of Amritsar Police's FIR. Pannu, who was declared a' designated individual terrorist' by the Government of India vide notification No. S.O.2170(E) dated 1st July 2020, has been actively exhorting Punjab-based gangsters and youth over the social media to fight for the cause of independent state of Khalistan, challenging the sovereignty, integrity and security of the country, NIA Investigations have shown.
In recent days,Pannu has been in the news for issuing blatant threats to senior Indian diplomats and government functionaries in public forums. He had also threatened Canadian Hindus a few days, asking them to leave Canada and claiming that they had adopted a "jingoistic approach "by siding with India.
The properties confiscated today Include 46 kanal agricultural and situated in Village Khankot, Amritsar,and 1/4th share of House Number 2033, Sector 15/C, Chandigarh(U.T.). These properties were earlier attached following orders passed by the government in two different cases. The properties have now been confiscated on the court's orders under section33(5) of the Unlawful Activities Prevention Act (UAPA),1967,in case RC-19/2020/NIA/DLI dated 5th April 2020 registered under sections120-B,124-A,153-A153-Band17,18 and 19 of the Unlawful Activities (Prevention) Act, 1967.
The case was originally registered as FIR no.152 dated 19th October 2018 u/s124A,153-A,153-B and120-B of IPC at Police Station Sultanwind, Amritsar(City) and later transferred to the NIA. A total of 10 accused including Pannu, have so far been charge-sheeted in the case (RC-19/2020/NIA/DLI).