Police DAV Public School Patiala salutes Punjab Police Martyrs on this Police Commemoration Day-Mohit Chug
Bureau/ royalpatiala.in News/ October 21,2023
'Police Commemoration Day' is a day of remembrance for those police officers who laid down their lives in the brave performance of duty, rendered a dedicated service and sacrificed their lives in the name of the country and to safeguard the freedom of the people. The 'Police Commemoration Day' gives officers of all ranks the chance to join with family members of the martyrs, to pay their respects to those who sacrificed their lives in protecting the peace of the state. It s about reconciliation; it is about coming together to honour those who gave their all for our safety" said Mohit Chug, Principal Police DAV Public School.
"The entire nation is indebted to the martyrs of Punjab Police who laid down their lives on the altar of liberty, allowing us to live in a world where we can exercise our rights and pursue our dreams. I along with my staff pay our heartfelt tribute to the Martyrs as the state observes the Commemoration Day on October 21" added Mohit Chug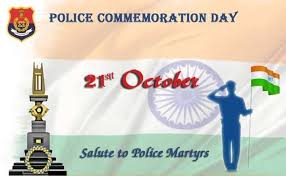 About Police Commemoration Day
On 21st October every year, commemoration Parades are held in all police units as a mark of respect to brave police martyrs, who sacrificed their lives in the line of duty. The arms are reversed and two minutes silence is observed in the honour of the departed souls. The names of police martyrs of states, police and paramilitary forces are read out, to acknowledge with pride the supreme sacrifices made by them. The history of commemoration day traces back to 21st October 1959, when a patrol party of CRPF, led by SI Karam Singh, was ambushed by the Chinese forces at Hot Springs ladakh and 10 jawans were killed, the bravery and resultant sacrifice of jawans fighting at 16,000 ft. altitude, in extremely cold conditions and against all odds, is an epitome of the rarest of the rare courage Indo-Tibetan Border Police sends a representative party of all police forces, of the country, to Hot springs, Ladakh every year to pay homage to the martyrs who laid down their lives on 21st Oct, 1959 while guarding national frontiers.