Punjab government on employment generation, PSPCL on employment quashing mode
Kanwar Inder Singh/ royalpatiala.in
In the last four years, Capt Amarinder Singh led Congress government organizes jobs fair under its pilot project-Ghar Ghar Rozgar scheme. In the last leg of their term, the Punjab government is stressing of new jobs creation, employment generation. But, on the other hand, the largest corporation of the Punjab government-Punjab state power corporation limited, seems to be moving on the other track. They seem to busy in quashing the posts, employees' contract and making them jobless, after 12-15 years of service.
In a sudden move, Punjab state power corporation limited (PSPCL) has quashed the sixteen posts of computer operators, employed through out source mode from Punjab Ex-serviceman Corporation (PESCO), on March 31,2021, in its South Zone. As per the orders issued by PSPCL South Zone officials, the services of computer operators were terminated from March 31,2021, without giving any advance intimation or one months' notice, as per the agreement.
In response to this PESCO management has warn the PSPCL to withdraw these orders to avoid legal ramifications against the powercom. PESCO is the main service provider of the PSPCL.
"PESCO advised the PSPCL authorities through a letter number1083/P-172/ PESCO dated April 1,2021 to retain the computer operators, on their rosters upto April 30,2021 i.e. upto the period of one month notice, as per labour laws and agreement status between the two parties." The same aws confirmed by the  managing director of PESCO.
As per the PESCO official, "out of these sixteen, 2 computer operators were working at PSPCL head office and fourteen under its South zone offices.
When contacted the SE headquarters, South Zone, PSPCL said " that the powercom management is considering to withdraw that letter, issued to the PESCO about the quashing of computer operators and will retain them."
On the other hand, Ministerial Services Union (Regd) has forwarded a letter to the chief minister Punjab, Capt. Amarainder Singh highlighting the decision of the PSPCL/ PSTCL management to quash the contractual employees, working under the department policy way back from 2006.
Harpal Singh President of the Ministerial Services Union said "some of employees are working from the last 12-15 years and the powercom/ Transcom is going to quash their employment, in one go and violating Punjab govt order, to not to quash any contractual employees, till a clear policy is not adopted."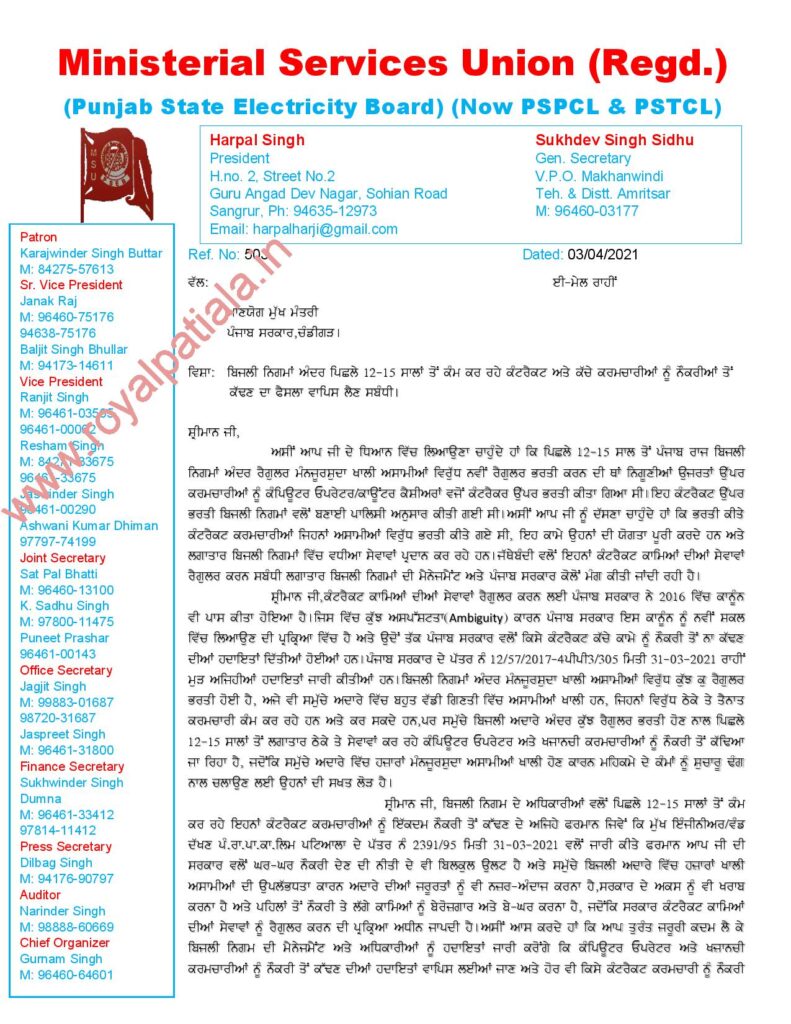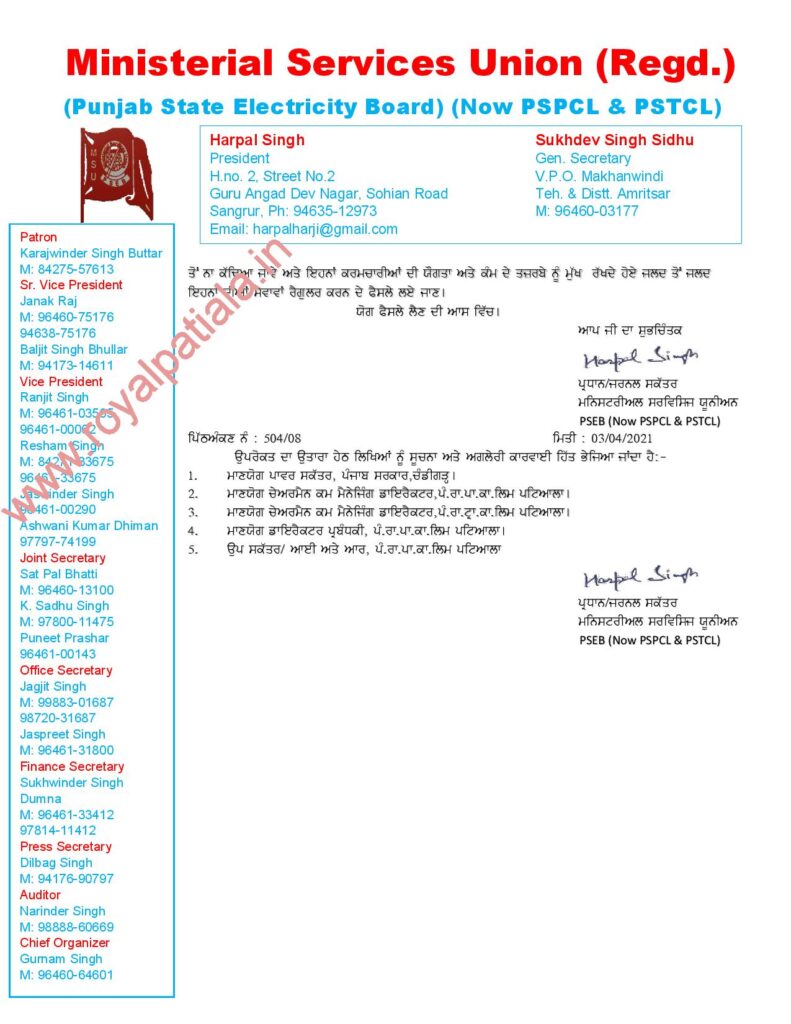 April 6,2021