Punjab's famous Terrorist-turned-Cat-turned-Cop dies
Kanwar Inder Singh/ royalpatiala.in News/ October 25,2023
As per reports, Gurmeet Singh Pinky, a terrorist-turned-cat-turned-cop who has a notorious past, died today due to heart attack at a private hospital in Chandigarh. He was suffering from dengue and was in the hospital.
Enjoying proximity with a large section of terrorists in Punjab, Pinky, it has been learned, traded information with the Punjab Police then in the nineties he became a 'cat' (Commando). It is said that, so true was the information passed on by Pinky, that he soon became an important tool for the police to fight terrorism.
As per available information, he became a core member of DGP S S Virk's team which was comprised of officers like Sumedh Saini and Shiv Kumar to name a few. Pinky's information led to some successful encounters and the arrest of some terrorists which earned him a permanent place in the police. In the mid nineties Pinky was inducted in the police as a Havaldar from where he rose to the post of Inspector.
Pinky rose to fame after arresting Khalistani terrorist Jagtar Singh Hawara twice.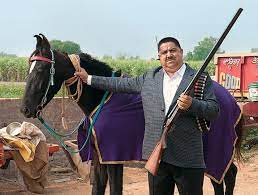 Pinky was awarded with President's Police Medal for Gallantry on a proposal submitted by the state government for his bravery during service. But, the same was withdrawn after he was convicted in a murder case. A murder case was registered against Pinky in 2001 and he was convicted and awarded life imprisonment in 2006. Subsequently, he was dismissed from the service
As per reports, in 2015 Pinky had uploaded a video on YouTube alleging that he was witness to at least 50 fake encounters. His claim was refuted by former Director General of Police KPS Gill.