Rajindra Hospital doctors at its best;saved the life of a patient with a critical neck injury
Kanwar Inder Singh/ royalpatiala.in
Doctors of Government Rajindra Hospital, Patiala saved the life of a patient with a critical neck injury.
Doctors of Rajindra Hospital performed successful emergency surgery to save the life of a young critically injured patient who was brought to the ENT emergency with a neck injury and injury to the windpipe at multiple places making it a complicated case and massive bleeding. A team of ENT surgeons led by Dr Sanjeev Bhagat (HOD), Dr Dinesh Kumar Sharma, Dr Vishav Yadav and senior resident Dr Ankita Agarwal took three hours to repair the severely injured neck and windpipe. Earlier such patients were used to be referred to PGI Chandigarh for this complicated surgery.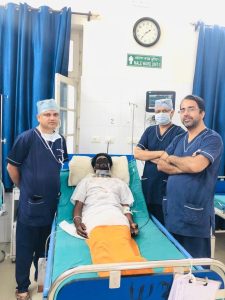 The patient was given ICU care for 24 hours and the patient recovered well and is out of danger. It is noteworthy that the same team of ENT surgeons managed mucormycosis ( black fungus) cases during the covid pandemic. Medical superintendent Dr H.S.Raikhy said that now the hospital is equipped to tackle such complicated cases which were earlier referred to higher institute.
August 25,2022