Rotary Club Rupnagar distributes 3000 notebooks to school children
Bahadurjeet Singh/Rupnagar, October 20,2023
Rotary Club Rupnagar distributed 3000 notebooks o the primary school children of Rupnagar in an exclusive function organized at Rotary Vocational Training Center in which children and teachers of 40 schools participated.
Pooja Syal Grewal, Additional Deputy Commissioner Rupnagar participated as the chief guest. She appreciated the work done by the Rotary Club & said that it is a big effort to encourage children in the field of education and to provide necessary materials, including benches given to the schools .
While addressing the children she said that education is not only an ornament, it is a great pillar for a person to raise high in the society. Even though the government has brought a lot of reforms in the educational sector and the condition of the schools has changed, still the participation of social service organizations individually gives a good message. She especially encouraged the children to maintain cleanliness and informed that she has given directions to the city council to solve the problems of water and sewerage on priority basis which are amongst the major issues faced by the city dwellers.
Dr. Namrita Parmar, President, Rotary Club Rupnagar welcomed ADC, Shalu Mehra, District Education Officer –DEO Primary &  Ranjana Katyal Deputy DEO Primary on this occasion. She informed about the projects carried out by the Rotary Club since 31st July till now, in which about 65 projects have been implemented.  Shalu Mehra thanked Rotary Club for helping them at various times. Chairman of this project Past President Gurpreet Singh & Co – Chairman Rotarian JPS Rehal told that cost of these notebooks is almost forty thousand & Rotary can cover more schools if required.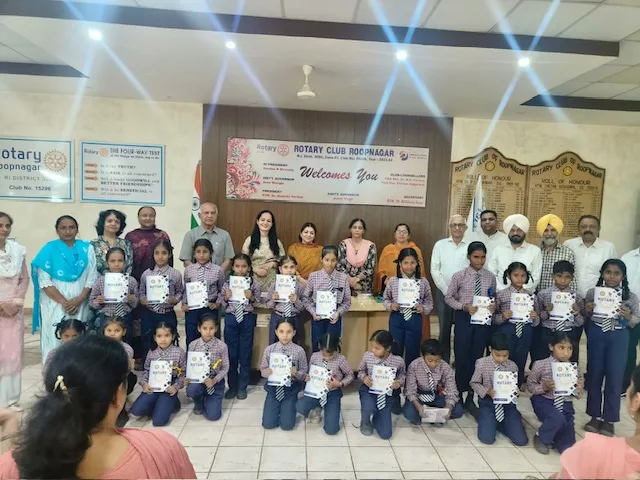 Rotary Club Rupnagar distributes 3000 notebooks to school children . Notable Social Activist & Past District Governors of Rotary Dr RS Parmar &  Chetan Aggarwal also presented their views on this occasion. Among others, Past Presidents of club Advocate Amar raj Saini, Advocate D S Deol, Dr Usha Bhatia, Incoming President Kulwant Singh & Roatarian Ashok Chadha, Punit Singhal & Suman Tyagi were present.