Sonu Sood interacts with Punjab's 'Election Star' in FB live event
Kanwar Inder Singh/ royalpatiala.in
Bollywood actor and Punjab State election Icon Sonu Sood interacted with the winning duo of the 'Election Star' initiative launched by the Office of Chief Electoral Officer, (CEO), Punjab through a Facebook live event held yesterday.
'Election Star' initiative was announced by the office of CEO, Punjab on the occasion of National Voters' Day (NVD) – 2021 on January 25 for campus ambassadors in the Colleges/Universities to encourage them to get pro-actively involved with election related activities and strengthen the Indian democracy. Election Commission if India launched a brand new facility of facilitating e-EPIC (electronic Electoral Photo Identity Card) which could be downloaded and printed initially by the first time voters and subsequently by all eligible voters. To popularise this facility amongst youth, Office of CEO Punjab announced the 'Election Star' title to be awarded for getting maximum number of e-epic downloads and a live interaction with State Icon Sonu Sood.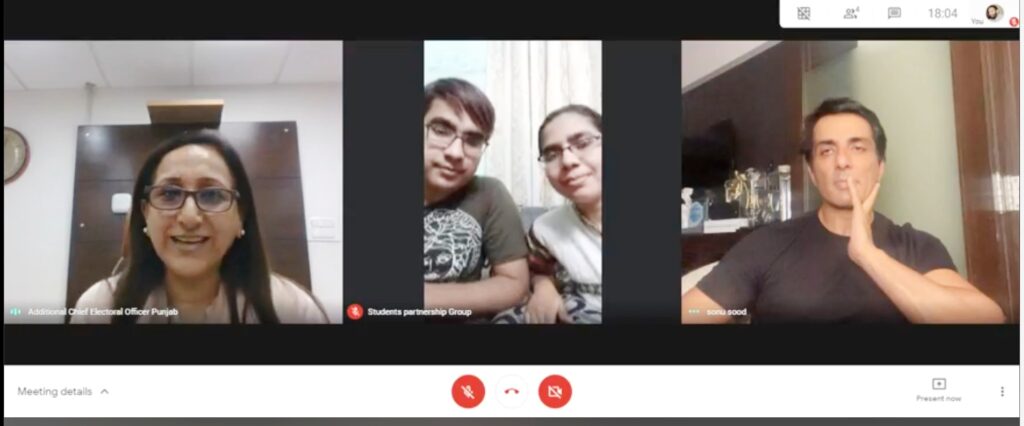 Sonu Sood interacts with Punjab's 'Election Star' in FB live event. In the first round, the contest has been adjudged from February 16 to Match 15. A team of siblings duo of  Ransi and Yuvraj Singh of Mehar Chand Polytechnic College, Jalandhar were jointly declared first 'Election Star' for getting a maximum of 306 e-EPICs downloaded.
e-EPIC is digital voter card that was launched by Election Commission of India (ECI) on January 25, 2021, marking the occasion of National Voters' Day. Aimed at creating voter convenience, voters can now download and print the digital voter card on their registered mobile.
Ransi and Yuvraj Singh were very excited to interact live with the 'reel and real' hero of the country, Sonu Sood. During the interaction, they shared their views on what motivated them to take part in this campaign. and the strategy adopted.They also voiced their concern about online education and the constraints experienced by students from unprivileged backgrounds. Sonu Sood advised them to understand the new normal and take things in their stride and join the digital bandwagon.
Sonu Sood has himself donated large no.of cellphones to students to facilitate their online classes. He has made a massive impact with his philanthropic efforts especially during Covid led lockdwn in 2020 and continues to inspire people particularly the youth.
Additional Chief Electoral Officer, Punjab Madhvi Kataria IAS initiated the FB live and expressed that it was a matter of great honour and big boost for 'Election Star' winners of the month to be able to interact live with Sonu Sood, who motivated them to continue with their creative efforts.
April 17,2021