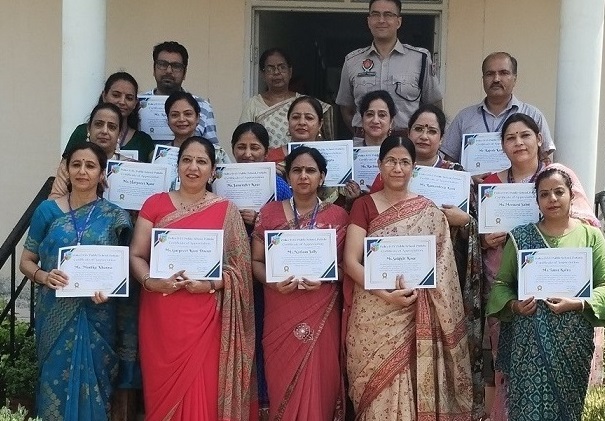 SSP Patiala honoured Police DAV Teachers on Teacher's Day
Buruea/ royalpatiala.in
September 5 is celebrated as Teacher's Day throughout the country in order to mark the birth anniversary of former President Dr S. Radhakrishnan. Teachers are the nation builders. So, to acknowledge their efforts and contribution,  Deepak Pareek (IPS) SSP Patiala honoured the teachers of Police DAV Public School Patiala today.

The teachers were applauded for their untiring efforts in guiding the students and achieving 100% result in the CBSE exams of class 10 & 12 this year in their subjects respectively. They were appreciated with certificates and plants by Pareek, the honorable chief guest for the function. Other eminent dignitaries present were Manveer Kaur and Aman Arora from the Forest Department and Navdeep Dhingra from Punjabi Jagran.
In his speech, Pareek highlighted the contribution of a teacher in a child's life. One does not remember the methodology of teaching but his attachment with the teacher. They help a child to face the world with courage and be successful.  He highlighted the role of teachers in shaping the personality of students.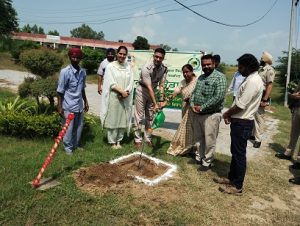 On the occasion, MeenaThapar, the school Principal, warmly greeted the eminent personalities and briefed them about the school and it's functioning. She thanked Pareek and other members for their kind gesture. She further added that recognition from such hands will encourage the teachers to train the young minds climb the ladder of success and contribute in the progress of the nation. A tree plantation drive was also held to mark this auspicious day .
SSP Patiala honoured Police DAV Teachers on Teacher's Day. The function ended on the festive note.
ABOUT POLICE DAV PUBLIC SCHOOL,PATIALA
Police DAV Public School, Patiala was founded to impart good quality education to the wards of Police personnels as well as in and civilians in and around Patiala. It came into being on 21st April ,2003 inspired by the success of Police DAV's at Jallandhar and Amritsar. The school is being administered by Punjab Police Education Trust, Patiala which is guided by the best IPS officers of Punjab Police. The campus of school is nestled away from dust noise of city on a gigantic 23 acre land to provide the best in the field of education.
September 5,2022