Sukhbir Badal led SAD expels Dhindsa's duo for anti-party activities
Kanwar Inder Singh/ royalpatiala.in/ Chandigarh
Today Shiromani Akali Dal (SAD) core committee on expelled its senior leader and Rajya Sabha MP Sukhdev Singh Dhindsa and his son and former finance minister of Punjab Parminder Singh Dhindsa from the party, for "anti-party activities.
Party spokesperson Daljit Singh Cheema said the core committee has endorsed the demand of party workers from Sangrur regarding immediate expulsion of the Dhindsas from the party.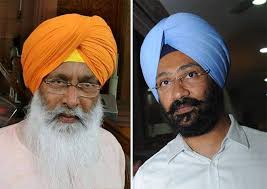 They have been charged with "anti-party activities" by criticizing the leadership on party decisions and join hands with rebel Taksali leaders.
Sukhbir Badal led SAD expels Dhindsa's duo for anti-party activities. Earlier on Sunday Shiromani Akali Dal president Sukhbir Singh Badal held a public rally at Sangrur, the home town of Dhindsa's, where a resolution was passed seeking expulsion of Dhindsa's duo from the party.
Sukhdev Singh Dhindsa has been awarded the Padma Bhushan in 2019 and remained union minister of sports and chemicals and fertilisers in Third Vajpayee Ministry from 2000 to 2004. He was member of Rajya Sabha from 1998 to 2004, is a close associate of Parkash Singh Badal.
Later Parminder Singh Dhindsa reacted to his expulsion from party said that "he will not resign from the assembly. He that this is another sign of dictatorship as they (Badals) have no regard for democratic values because they never issued us any show-cause notice earlier. If they had issued one, we would have given our explanation. This decision shows their insecurity."