Surrogacy Act – boon or bane for childless couples: Greater Chandigarh Chapter of IFS organized ART Update at Chandigarh
Kanwar Inder Singh/ royalpatiala.in News/ August 20,2023
Greater Chandigarh Chapter of Indian Fertility Society (IFS) and Jindal IVF today organized a day long 18th ART Update at Chandigarh, wherein delegates including Senior doctors from north India, Obstetricians and Gynecologists from the region, lawyers and other stake holders dealing with infertility joined hands to discuss the ART (Assisted Reproduction Technology) and Surrogacy Regulation Acts 2021, Ovarian Stimulation Protocols, Genetics & Fetal Medicine.
More than 200 doctors participated and held day long discussions on Surrogacy, Future of Genetics in IVF and latest advancements in the field to upgrade themselves.
It was opined by the experts present at the event  that how since the passage of surrogacy act in December 2021, to streamline and legalise ART (Assisted Reproduction Techniques) and Surrogacy, little has been done by the government to implement it.
Only altruistic Surrogacy is permitted as per the new Act which means using someone else's uterus to have a baby with no charges to be paid to the surrogate. The act safeguards the interests of commissioning couple, surrogate and the treating doctor. Many couples are in genuine need for surrogacy due to poor uterine lining or repeated abortions in a female or scarred uterus. The intending couples now have to take many permissions and clearances from various places before they can even start the treatment like medical board permission stating reason for surrogacy, fitness of both parties, essentiality certificate from appropriate authority, court order for parentage and many others. The whole process can take 3-6 months and not streamlined at all at this point of time. We don't know how to guide patients and where to send them – said Dr Umesh Jindal, a very senior fertility consultant and Director Jindal IVF.
This is adding to the frustration of already aggrieved couples as it will cause significant delays in treatment and age is a major limitation to success in IVF . There are few states where steps are clear and cases are being done now. What are the reasons for delay in Chandigarh and other states is not clear to us – said Dr Anupam Gupta, senior consultant Jindal IVF & General Secretary IFS CHandigarh Chapter in her address requested the government to take early steps and help.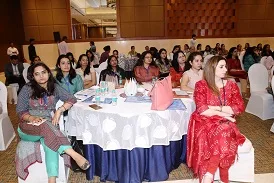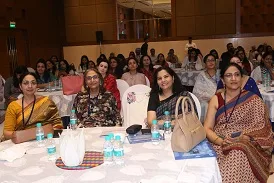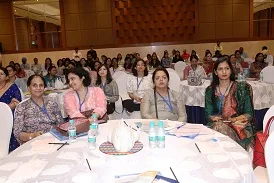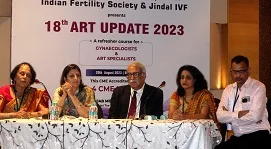 Dr KD Nayar, President IFS in his address said that "Genetics is going to be the future".  He elaborated that there are couples who have a genetic disease passed from generation to generation causing deaths in the family. Unfortunately there is no cure. However, IVF (Test Tube Baby) with PGT (Pre implantation genetic testing) is one such technique where these affected genes can be tested in embryos and only unaffected embryos are transferred in the uterus thus eliminating the genetic disorder from the future generations permanently. This technique is revolutionary and the only hope for couples who have to undergo repeated abortions for affected fetuses and suffer. Many couples have been treated and have healthy babies now using IVF with PGT.
It's really satisfying to see us create happiness for these couples – said Dr Sheetal Jindal who is diligently working with her genetic team on this technique. Awareness is the key to handle such problems. The couples who know that such a technique is available come from far of places to take treatment – added Dr Sangeeta Khatter.
Surrogacy Act – boon or bane for childless couples: Greater Chandigarh Chapter of IFS organized ART Update at Chandigarh. The event also included lectures by National faculty and workshops for the upcoming young specialists.