To infuse terror, another suspected explosion near Darbar Sahib, Amritsar ; again no casualty reported
Kanwar Inder Singh/ May 11,2023
Today midnight a loud sound was heard at around 12.15-12.30 am, backside the building of a sarai near Darbar Sahib, Amritsar and the same was confirmed by Amritsar Police.
A loud sound was heard at around 12.15-12.30 am, there's a possibility that it could be another explosion. It's being verified and is yet to be confirmed. Suspects are being rounded up, probe on: Naunihal Singh, Commissioner of Police, Amritsar.
This is the third explosion in around 5 days that was occurred in and around Darbar sahib. The Police personnel and forensic team members are at the spot and probe is underway.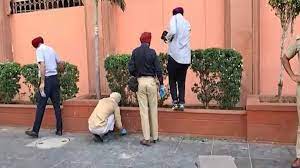 "It seems someone is trying to infuse terror in the minds of devotees, residents, visitors and defame Amritsar, a raw explosion are being done by miscreants" said Gurjit Singh a devotee.
The first blast was reported on Saturday night on Heritage Street. The windows of a nearby restaurant were also damaged. The second blast took place on the street on Monday. As per Punjab DGP Gaurabv Yadav, the first two blasts were caused by low-grade explosives without detonators. Notably, after the second blast, the NSG team also reached the spot to probe the entire case.
These the two blasts were reported days ahead of the Lok Sabha bypoll in Jalandhar, held yesterday.
(royalpatiala.in News)