3 Trucks, 3959 cases of spurious liquor for sale in Chandigarh impounded by Punjab police
Kanwar Inder Singh/ royalpatiala.in
Under the directions of worthy SSP Mohali  Navjot Singh Mahal, PPS special drive was initiated against anti-social elements, criminal and drug peddlers in the view of forthcoming assembly elections.
During the special drive under supervision of SP city Mohali  Akashdeep Singh Aulakh and DSP city-1 Mohali  Gursher Singh Sandhu special nakabandi was laid down in the area of Phase-6 Mohali by Incharge Police post Phase-6 Mohali Sub-Insp Kulwant Singh with police party. On secret information a commercial vehicle bearing number HR-68 B-0606 ferrying vegitables and fruits to Amritsar was stop for checking. On checking the said vehicle 520 cases of fake Naina whisky (for sale in Chandigarh having seal of Uttarakhand excise) was recovered which were concealed beneath fruits and vegitables crates. On this an FIR no 208 dated 29.10.2021 u/s 61-1-14 Excise Act Phase-1, Mohali was registered against driver of the vehicle named Krishan Kumar age 40/45 years s/o Tara Chand vill. Hebowal, Ludhiana.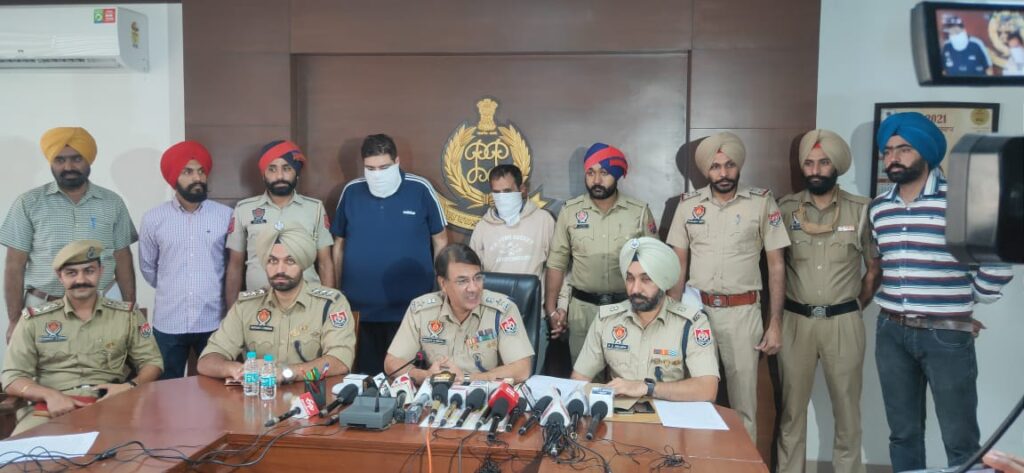 During investigation accused Krishan Kumar made a disclosure statement that this fake liquor supplied by Divay Khnna @ Vicky s/o Rajiv Kumar r/o Royal Motia city Zirakpur and there is a Godown in village Mohrra, Distt Ambala cantt (HR) which is used as storage godown of spurious liquor. The said godown was raided and recovery of another 3439 cases of spurious liquor was made which was stored in two trucks number HR-55 N-9457 and HR-37 D-1704. Further arrest of accused Divay Khanna @ Vicky s/o Rajiv Kumar r/o Royal Motia city Zirakpur was affected on 31/10/2021 from Zirakpur during investigation. Further revelations regarding this case will be made.
3 Trucks, 3959 cases of spurious liquor for sale in Chandigarh impounded by Punjab police. Accused detail:
Krishan Kumar age 40/45 years s/o Tara Chand vill. Hebowal, Ludhiana
Divay Khanna @ Vicky s/o Rajiv Kumar r/o Royal Motia city Zirakpur
Recovery Detail: 03 Trucks + 3959 cases of spurious liquor (for sale in Chandigarh having seal of Uttarakhand excise)
October 31,2021