After Congress, AAP announces its party candidate for Jalandhar by-poll
Kanwar Inder Singh/ April 6,2023
Aam admi party (AAP) has announced Sushil Kumar Rinku, a turncoat leader as its candidate for Jalandhar by-poll elections.
Former Congress MLA and a prominent Ravidassia leader Rinku, had joined AAP yesterday at Jalandhar in the presence of AAP party supremo Arvind Kejriwal and chief minister Bhagwant Mann.
The Congress had already announced Karamjit Kaur Chaudhary, wife of former MP Santokh Singh Chaudhary, as its party candidate for Jalandhar by-poll elections, in March 2023.
As of now, BJP has also not finalized any candidate's name tough the saffron party has recently inducted Rajindra Singh, a three-time President's Medal awardee and former DCP of Jalandhar, into the party and may announce him as its party candidate.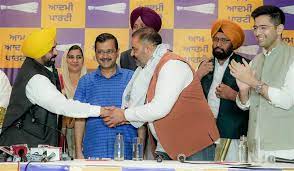 After Congress, AAP announces its party candidate for Jalandhar by-poll. Whereas Shiromani Akali Dal (SAD) President Sukhbir Singh Badal recently held a meeting of its core committee at the party headquarters in Chandigarh where senior party leaders asked him to decide upon a candidate for the Jalandhar Lok sabha  bypoll. Sukhbir had also discussed the names of former local MLAs but none has been decided so far.
ਜਲੰਧਰ ਲੋਕ ਸਭਾ ਜ਼ਿਮਨੀ ਚੋਣ ਲਈ ਆਮ ਆਦਮੀ ਪਾਰਟੀ ਵੱਲੋਂ ਸੁਸ਼ੀਲ ਕੁਮਾਰ ਰਿੰਕੂ ਜੀ ਦੀ ਉਮੀਦਵਾਰੀ ਤੇ ਮੋਹਰ..ਬਹੁਤ ਬਹੁਤ ਸ਼ੁਭਕਾਮਨਾਵਾਂ.. pic.twitter.com/uOqqrwzN01

— Bhagwant Mann (@BhagwantMann) April 6, 2023
The polling for the Jalandhar parliamentary seat will take place on May 10 while the counting will be held on May 13. The constituency fell vacant after Congress MP Santokh Singh Chaudhary (76) died of a heart attack while taking part in the Bharat Jodo Yatra on January 14.
Congress announces its candidate for Jalandhar Lok sabha bye-election
(royalpatiala.in News)