AIIMS Bathinda celebrates World Heart Day
Kanwar Inder Singh/ royalpatiala.in News/ October 1,2023
The World Heart Day was observed by the Department of Community and Family Medicine (CFM), AIIMS Bathinda on 29th September 2023. On this occasion, students of Maharaja Ranjit Singh Punjab Technical University (MRSPTU) were trained on the life-saving skill of Cardiopulmonary Resuscitation (CPR).
World Heart Day serves as a reminder to all of us to take care of our hearts. According to World Heart Federation, Cardiovascular disease is the world's number one killer. Each year numerous precious lives are lost due to the lack of awareness on how we can help someone facing cardiac arrest. CPR is one such life-saving skill which proves to be extremely helpful to increase chances of survival of such victim by providing timely help.
The program was held in the MRSPTU auditorium where more than 160 students and MRSPTU faculty gathered to learn this important skill. In the training the students learnt about the Hands Only Cardiopulmonary Resuscitation (HOCPR) steps and practiced the technique.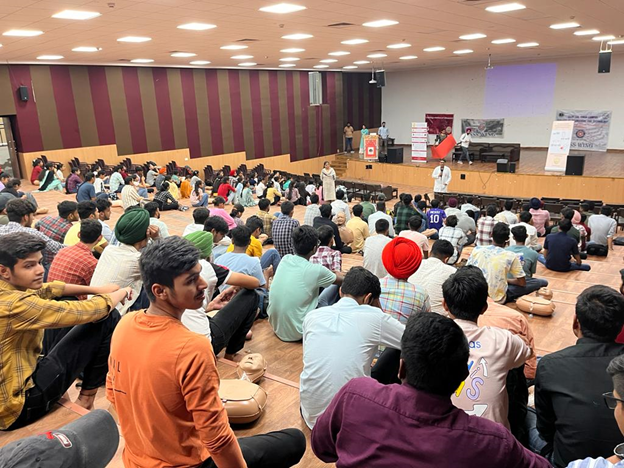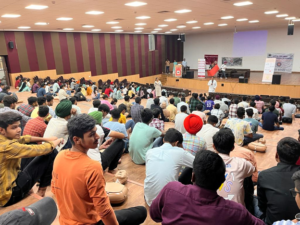 AIIMS Bathinda celebrates World Heart Day. A team from AIIMS Bathinda including Dr. Ramnika Aggarwal Associate Professor, Dr. Madhur Verma Assistant Professor and other volunteers from the Department of Community and Family Medicine facilitated the training. These activities were organized under the guidance of Prof Dr. Rakesh Kakkar, Head of Department, CFM, AIIMS Bathinda, and supported by Prof. Gurinder Pal Singh Registrar MRSPTU and Dr. Meenu Assistant Professor and NSS Coordinator MRSPTU.