Akali Dal abled to defend its strong bastion; foils alleged saffron party's first attempt to enter in mini parliament
Kanwar Inder Singh/ royalpatiala.in
As expected, shiromani akali dal backed shiromani gurudwara prabhandak committee (SGPC) nominated candidate Harjinder Singh Dhami has won the mini parliament of Sikh's –SGPC president post. He defeated his old colleague, former president of SGPC and rival candidate Bibi Jagir kaur.
Harjinder Singh Dhami got elected second time in a row. Whereas Bibi Jagir Kaur became the first woman president of the apex elected body of Sikhs in 1999, and again in 2004 and 2020. The former leader of the SAD(Badal) women's wing had decided to contest the SGPC election again, with or without the consent of party president Sukhbir Singh Badal.
After the revolt of Bibi Jagir kaur and all attempts of shiromani akali dal to bring back her in party fold failed. So, the elections for the prestigious post was held today. Harjinder Singh Dhami won the election as he got 104 votes where as Bibi Jagir Kaur got 42 votes.
In 2002, when Capt Amarinder Singh became the congress chief Minister, he also tried to enter the SGPC. Since then, over the last two decades, SAD (Badal) SGPC members have given over their right to elect the SGPC president to the SAD(Badal) president. The choice is kept secret until the last hour, after which the party's SGPC members rubber-stamp the name chosen by the party president. The secrecy over the name of the new president is maintained in order to minimise the chances of a rebellion.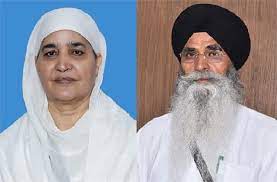 The last several presidents, including Bibi Jagir Kaur herself, were handpicked by SAD(Badal) president Parkash Singh Badal, Sukhbir Singh Badal. This time, however, Bibi Jagir Kaur has called out the alleged "lifafa (envelope) culture" in the party, in which the name decided by the president is made public only inside the house.
This is the first time that the SAD(Badal) were made to announce the name of its candidate in advance.
Though the SAD(Badal)  has a huge majority of 135 members in the SGPC house while the opposition has only 22. But, Bibi Jagir kaur able to get    votes. Although earlier it was expected that Bibi Jagir Kaur would face a very difficult challenge. However, she hurts the SAD(Badal) politically as she manages to secure a certain number of votes from party members.
Out of 157 members, today       members came to attend SGPC general house today at Teja Singh Samundri Hall, headquarters of the apex gurdwara body, to elect its president, other office-bearers (general secretary, senior vice-president and junior vice-president) and an 11-member executive committee.
The 191-member (170 members are elected by Sikh voters, 15 are co-opted and six are sitting heads of Sikh temporal seats and head granthi of the Golden Temple) general house assembles every year. As per SGPC spokesperson, 26 members have died, while two have resigned.
November 9,2022