Challan gift-free helmets were given to violators by Haryana transport department
Kanwar Inder Singh/ royalpatiala.in/ Chandigarh
Haryana Transport Department carried out a road safety drive in Panchkula, under which free helmets were given to two-wheeler drivers and pillion riders after challaning them under Section 129 of the Motor Vehicles Act 1988.
While stating this here yesterday, an official spokesperson of Transport Department said that the road safety drive was carried out under the supervision of Transport Commissioner, Dr. Satyavir Singh Phulia  from MDC lights point  at Panchkula. He said that the helmets were donated to the department by Haryana Vision Zero, an agency partnering with the State Government in road safety measures.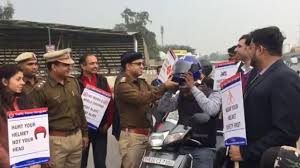 He said that the operation led by Meenaxee Raj, Joint Transport Commissioner was accompanying the challaning parties at different seven locations near Majri chowk, Sector 5, stadium lights, MDC lights in Panchkula. Additional Deputy Commissioner of Panchkula, Manita Malik was also present during the drive.
He said that the response of the people was initially reluctant, but later they were surprised and a woman whose vehicle was challaned, while requesting her anonymity supported the initiative of the government and said that it was a unique initiative of the government regarding road safety measures, She was given a free helmet after being challaned.
He said that "its a Challan gift-free helmets were given to violators by Haryana transport department and it was an uphill task to convince people to start following the traffic rules but however, the drive went successful after creating awareness regarding road safety measures."