Chitkara University Confers Honorary Doctorate on Bharat Goenka, Founder, Tally Solutions
Kanwar Inder Singh/ royalpatiala.in News/ October 6,2023
Chitkara University, a beacon of excellence in the field of education, proudly bestowed the prestigious Honorary Degree of Doctor of Literature (Honoris Causa) upon  Bharat Goenka, the illustrious Founder and Vice Chairperson of Tally Solutions Pvt. Ltd, India's leading Business Management Software provider. The award recognizes  Goenka's extraordinary contributions, transformative influence, and steadfast dedication in the realms of technology and business.
Hailed as the "Father of the Indian software product industry" and lauded with the esteemed Lifetime Achievement Award by NASSCOM in 2011,  Goenka stands as an icon of innovation and entrepreneurship in the technology sector. As the founder of Tally Solutions, he has played a pioneering role in revolutionizing the landscape of business management software products, with a global user base exceeding 7.2 million.
The Honorary Doctorate was presented to  Goenka by the esteemed Dr. Ashok K Chitkara, Chancellor of Chitkara University, and Dr. Madhu Chitkara, Pro Chancellor, during a grand convocation that celebrated his outstanding achievements.
Goenka's journey commenced in 1984 when he received an IBM PC as a gift from his father, setting the stage for a technological revolution that would touch millions of MSME businesses worldwide. His ingenuity gave birth to 'The Accountant,' a revolutionary accounting software devoid of complex coding, which later evolved into Tally Solutions in 1999. Soon, Tally. ERP9, the world's first concurrent multi-lingual business accounting and inventory software, marked a paradigm shift, and the latest offering, Tally Prime, continues to set industry standards with its user-friendly interface and seamless experience. Under  Goenka's dynamic leadership, Tally has evolved from a simple accounting package for SMEs to a comprehensive business management software serving enterprises of all sizes and types.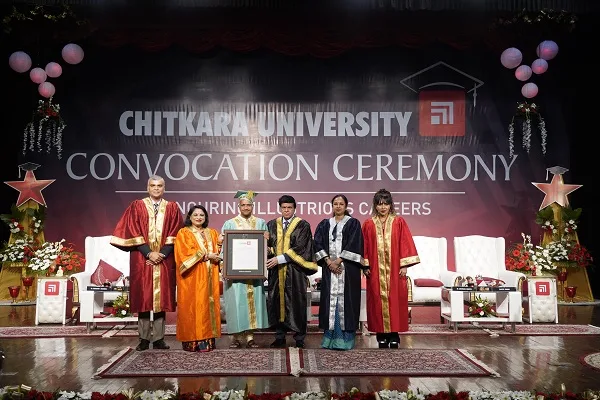 Receiving the Honorary Degree,  Bharat Goenka said, "I feel truly humbled and honoured to receive the Honorary Doctorate of Literature from an esteemed University like Chitkara. I have been blessed to be a part of Tally's story and witness the unfolding of its magic over the years. It's been my absolute privilege to meet and interact with the esteemed faculty and the bright students at the Chitkara University ."
Dr. Ashok K Chitkara, Chancellor of Chitkara University, Punjab, expressed, " Bharat Goenka's legacy as a trailblazer and innovator will continue to inspire future generations, paving the way for a brighter and more innovative future for our nation and the world. The Honorary Doctorate is in recognition of  Goenka's tremendous contributions to the Indian software product industry, technological innovation, and entrepreneurial leadership. Chitkara University extends its heartfelt gratitude to  Bharat Goenka and confers upon him this well-deserved doctorate."
Dr. Madhu Chitkara, Pro Chancellor of Chitkara University, Punjab, commended  Goenka's exceptional contributions to the software product industry, emphasizing their profound impact on technological innovation and entrepreneurial leadership. She remarked, " Goenka's relentless pursuit of innovation has ignited a revolution in technology. We honour his pioneering spirit and foresee his legacy inspiring countless future trailblazers."
Chitkara University Confers Honorary Doctorate on Bharat Goenka, Founder, Tally Solutions. Goenka's outstanding contributions have earned him numerous accolades, including the prestigious Padma Shri award, India's fourth-highest civilian honour, recognizing his outstanding impact on trade and industry. His visionary leadership has not only transformed the technology industry but also empowered countless businesses to thrive.
"Exciting news!  News Portal royalpatiala.in is now on WhatsApp Channels. Subscribe today by clicking the link and stay updated with the latest updates! " Click here !