Deakin University Vice-Chancellor's Visit Amplifies Global Academic Collaboration at Chitkara University
Kanwar Inder Singh/ royalpatiala.in News/ September 14,2023
Professor Iain Martin, Vice-Chancellor, Deakin University, recently visited Chitkara University to commemorate the partnership between these two prestigious institutions. The visit underscores the pivotal role of international academic collaborations in revolutionising education and providing students with a global platform for growth.
Deakin University and Chitkara University have a longstanding partnership that has produced remarkable outcomes for students over the years. This collaboration has enriched the educational experience by providing students access to a world-class curriculum, cutting-edge research opportunities, and exposure to diverse cultures and perspectives. This partnership has enhanced the quality of education and broadened the horizons of countless students, preparing them to thrive in an increasingly interconnected world. The visit served as an opportunity to celebrate this partnership and its profound impact on the lives of students past and future.
During this meeting, the focus was on the tangible outcomes resulting from the partnership. The occasion highlighted the transformative impact of knowledge partnerships between domestic and international institutions, underscoring the crucial role of international collaborations in reshaping the educational landscape and affording students a global platform for personal and academic development.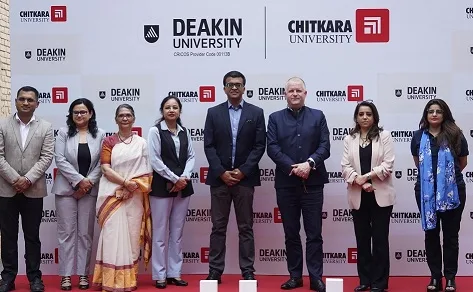 Prof Iain Martin, President & Vice-Chancellor, Deakin University, Australia, reflected on the visit to Chitkara University, and remarked, "It is wonderful to be back at Chitkara today, almost a year from the last visit. To see the latest cohort of students in the lecture theatre is really special. The students are the reason we have the HUB here—to provide that distinctive shared education between Deakin and Chitkara. And it is great to witness the energy, passion, and engagement of the students. Just wonderful."
Ravneet Pawha, Vice President (Global Alliance) & CEO (South Asia), Deakin University, Australia, stated, "I'm extremely happy to be back here at Chitkara University. It has been such an amazing experience to see the partnership grow over the years and to meet this new batch of students who will be coming to Australia in the next couple of years. It's so exciting, and it's also great to see a lot of students looking at the software engineering program. We are very keen to welcome them, and we are very keen to grow this partnership to the next level. I want to thank all my colleagues at Chitkara University and Deakin University for making sure that this amazing partnership takes the next step. Thank you very much."
Pro-Chancellor of Chitkara University Dr Madhu Chitkara reiterated this sentiment saying "Our collaboration with Deakin University has been nothing short of transformative. It has opened doors and created pathways to a realm of endless possibilities for both our students and faculty. By engaging with Deakin, our institution has seamlessly integrated into a global academic ecosystem where innovation knows no bounds. This partnership is a testament to our shared commitment to providing a truly holistic education that empowers our students to excel on a global stage and our faculty to push the boundaries of research and knowledge dissemination."
Deakin University Vice-Chancellor's Visit Amplifies Global Academic Collaboration at Chitkara University. During the visit, Professor Iain Martin engaged with faculty and students at Chitkara University, exploring avenues for further enhancing educational opportunities, research initiatives, and cultural exchanges. The exchange of ideas emphasized the commitment of both institutions to advancing education and knowledge partnerships and commemorated the shared journey of these esteemed institutions. This partnership not only signifies the achievements of Deakin University and Chitkara University but also serves as an inspiration for institutions worldwide to seek partnerships that can have a lasting impact on students and contribute to the global pool of knowledge.