ENT doctors of Rajindra Hospital at their best, successfully removed large Skull Based Tumour
Kanwar Inder Singh/ royalpatiala.in News/ May 29,2023
Govt Rajindra Hospital, Patiala doctor's team has added another success feather on their cap, team of ENT experts Prof Sanjeev Bhagat (Head) & Dr Vishav Yadav (Assistant Professor) successfully operated on 9×9 cm Skull Base Tumour in a 45 year old Male patient at Rajindra Hospital, Patiala. This tumour was so large that it was occupying left side of face below the skull base and extending to mouth & pushing the cheek outside. Patient was suffering from cheek swelling since last 4 months.
On this success of Rajindra Hospital doctor's team, Medical Education and Research and Health Minister Dr Balbir Singh, while congratulating ENT team, said that Punjab Government under the able guidance of Chief Minister Bhagwant Mann, is fully committed to provide all high-tech facilities in Rajindera hospital.
Divulging the details Prof Sanjeev Bhagat (Head ENT) said that this highly complex surgery took almost 4 hours to complete. Now the patient is recovering well and due for discharge soon. Patient is expected to resume the daily work routine in another 10 days. The team of anaesthesia doctors, Prof Pramod Kumar (Head) and Dr Gurjeet Gandhi took care of anaesthesia part.
Earlier such patients had to travel to PGI, Chandigarh for the treatment. Now the team of ENT experts, Dr Sanjeev Bhagat and Dr Vishav Yadav, are doing all kind of complex ENT & Skull Base surgeries. Both surgeons have extensive training experience from prestigious institutes PGI Chandigarh and AIIMS, New Delhi respectively.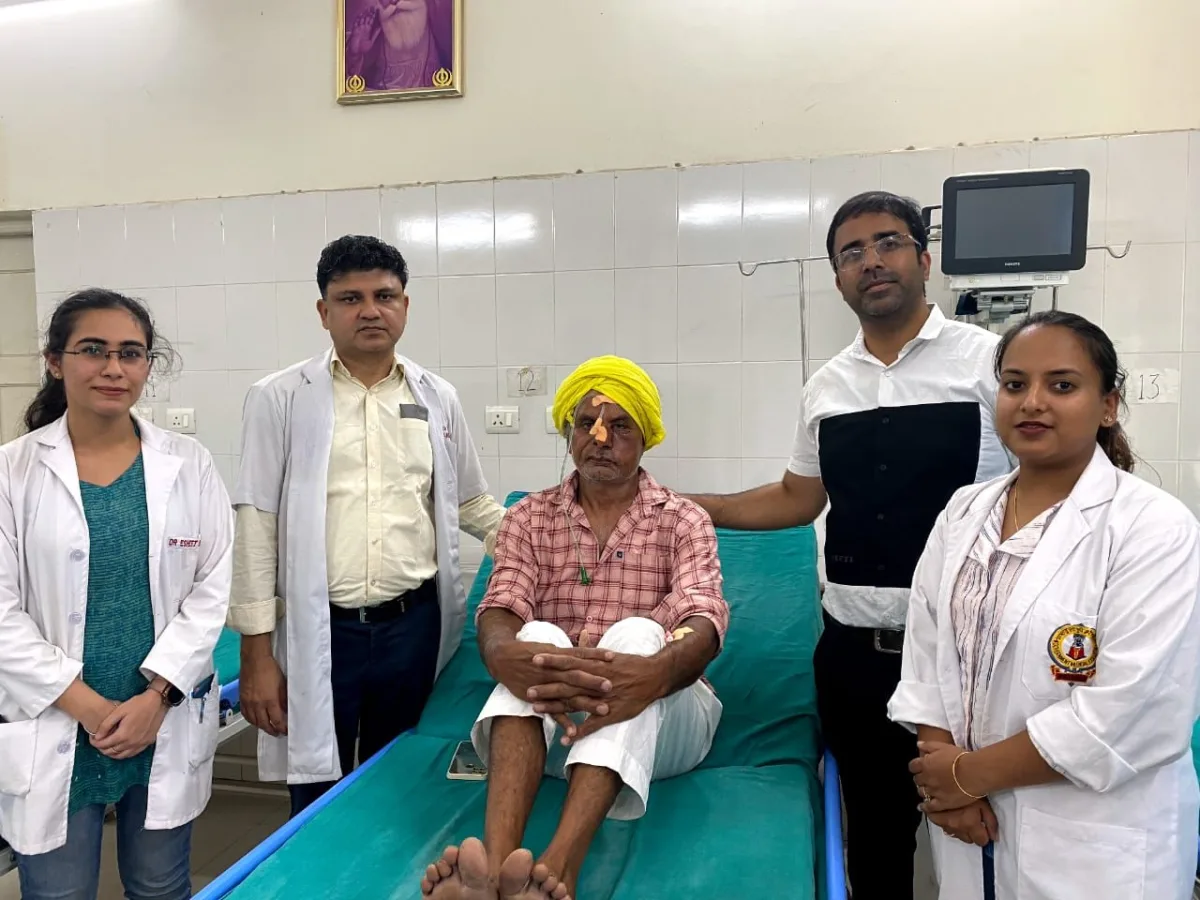 ENT doctors of Rajindra Hospital at their best, successfully removed large Skull Based Tumour. Dr HS Rekhi, Medical Superintendent of the hospital, said "Rajindra Hospital is now well equipped to do such complex surgeries of Skull Base and Head and Neck Cancer. Now patients from all over Punjab are travelling to Rajindra Hospital for all kind of advanced surgeries in ENT".
Dr Rajan Singla, Director Principal of Rajindra Medical College & Hospital, congratulated the team, Prof Bhagat and Dr Yadav on accomplishing this difficult task. Dr Rajan Singla said "We are also in process to procure the advanced equipment to further upgrade the ENT department to the level of AIIMS & PGI".
ALSO READ
Good News for govt doctors, the 'pay scale' will be restructured to strengthen health services- Dr.Balbir Singh