For fraud, people representative of Amargarh constituency in Punjab vidhan sabha detained by ED
Kanwar Inder Singh/ royalpatiala.in News/ November 6,2023
The Enforcement Directorate on Monday detained sitting aam admi party MLA from Amargarh in Malerkotla district, Jaswant Singh Gajjan Majra.
The recent detention occurred as Jaswant Singh Gajjanmajra was addressing an AAP workers' meeting in Amargarh, a town located in the Malerkotla district. The move by the Jalandhar ED team took many by surprise, as the reasons for his detention remained undisclosed to the public.
It is unclear why the Aam Aadmi Party MLA from Amargah – who was picked up from a public meeting – has been held. But as per available information, the investigating agency is going to present him before the CBI court at Mohali, by today evening.
The probe into Majra's financial affairs began when the CBI initiated a case under the Prevention of Money Laundering Act (PMLA) following the raids on his properties. These raids were related to a substantial Rs 40.92-crore bank fraud case that had come to light. The CBI investigation revealed that Gajjan Majra, along with six others, including companies and individuals, was implicated in the alleged fraud.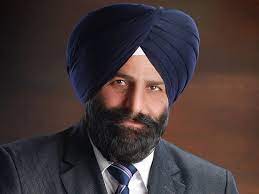 For fraud, people representative of Amargarh constituency in Punjab vidhan sabha detained by ED . In September last year, three premises linked to the Aam Aadmi Party leader, including his residence, were searched by the Central Bureau of Investigation in connection with an alleged Rs 41 crore bank fraud case. The searches yielded "Rs 16.57 lakh in cash, foreign currency (of an unspecified amount), and incriminating bank and property documents", the agency had claimed.
According to the CBI, the case against Gajjan Majra and others, including the Tara Corporation Limited, was registered based on a complaint by a Bank of India branch in Punjab's Ludhiana. The case also named several individuals, senior executives and others, as well as "unknown public servants".