Govt Bikram college students visited Old Age Home
Bureau/ royalpatiala.in News/ November 9,2023
The 'Helping Hand Club' of Government Bikram College of Commerce, Patiala made a visit to an old age home at village Rongla, dist. Patiala under the guidance of College Principal Prof. (Dr.) Kusum Lata on 7th November 2023.
Prof.Ram Kumar and Nancy Sharma (Incharge Helping Hands club and many students of the college had a unique opportunity to share the love, warmth and feelings of elderly people at the old age home. The Bikram Helping Hands club donated wheat flour to the organisation.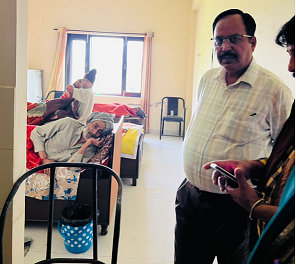 The visit came out as a lifelong experience for the students. They realised the value of grandparents and the tenderness with which they need to take care of their parents and grandparents .The company of the old age people developed the bond that would be carried by them for the times to come.