Govt Mohindra College organised industrial visit for science students to IOL chemical
Kanwar Inder Singh/ royalpatiala.in News/ September 25,2023
Department of Chemistry organized an Industrial visit to well esteemed, IOL chemical and pharmaceuticals Limited, Barnala with the students of MSc. Chemistry and BSc. Medical/Non-Medical Students on September 23, 2023.
This visit started with refreshment provided by IOL and a brief introduction about industry was given by Gurpreet Singh (HR)IOL Chemicals and Pharmaceuticals, the world's biggest producer of ibuprofen. Total 5 metric tonneibuprofen make per day.
Students were accompanied by Neeraj/ Vishal(HR) throughout the visit.
Students saw all the departments-raw material storage, production, packaging, quality control and quality assurance. The management of IOL allowed the students to visit the premises of their manufacturing facility. The students got to know how it feels to work in the industry. All questions and queries were attended by the working professionals. Procedures related to all aspects of manufacturing, quality control and packaging were explained at length by industry personnel. Students learnt many new aspects in this industrial visit.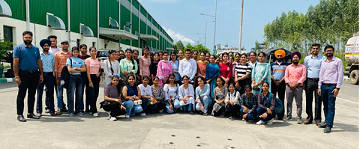 Totally, 48 students from BSc/MSc. chemistry were benefited by this industrial visit. The staff of the plant was very co-operative and the visit to plant was very beneficial for the students apart from their academic knowledge, this visit helped in enhancing their practical knowledge.
The visit was organized under the learned supervision of Prof.Rachna Bhardwaj, (HoD, Chemistry Dept.), Prof. Ashu Kiran, Dr. Kanchan Bala