Journalist turned politician stakes claim to Congress ticket
Kanwar Inder Singh/ royalpatiala.in
Journalist turned politician Bahadurjeet Singh has staked claim to Congress ticket for Rupnagar assembly constituency.
He has applied for the party ticket   at Punjab Pradesh Congress Committee office today.
Bahadurjeet Singh.who had been inducted  in to Congress by Punjab chief minister Charanjit Singh Channi recently,. belongs  to traditional Congress family.
He said that due recognition would be given to Bahadurjeet Singh in the party.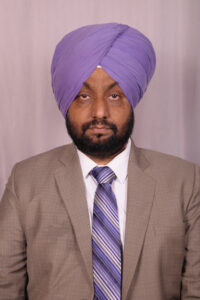 His father late Kavishar Harnam Singh was a freedom fighter,his father late advocate Hazura Singh remained member of Punjab Subordinate Services Selection Board(PSSSB) and his mother late Karamjit Kaur was a noted social activist.
Bahadurjeet Singh,who is president of District Press Clubs Association. is a law graduate and had also done Master of Journalism and Mass Communication. He remained active in the field of journalism in various capacities and worked for various prominent media organisations. He also remained president of  Rupnagar Press Club for 12 consecutive years and remained  associated with various government committees.He is also associated with various social organisations.
Bahadurjeet Singh said that he was a loyal party worker would perform any duty assigned to him by the party dedicatedly and work for strengthening the party..
He said that he would work for the betterment of society and development for the Rupnagar constituency.
December 20,2021