MRSPTU Celebrates World Science Day for Peace and Development with Enthusiastic Student Participation
Kanwar Inder Singh/ royalpatiala.in News/ November 7,2023
The Department of Mathematics at Maharaja Ranjit Singh Punjab Technical University (MRSPTU) Bathinda celebrated World Science Day for Peace and Development, at Bathinda  on Tuesday.
The theme "Building trust in Science" emphasized the pivotal role of science in society and the importance of engaging the public in discussions on emerging scientific challenges. Trust in science is essential for finding evidence-based solutions to global issues.
To commemorate the day, the department organized a variety of competitions, including Model displays, Declamation, Rangoli, and Poster-making.
Senior faculty member, Prof. (Dr.) Karanvir Singh, underlined the global significance of science and technology, urging students to actively participate in such events.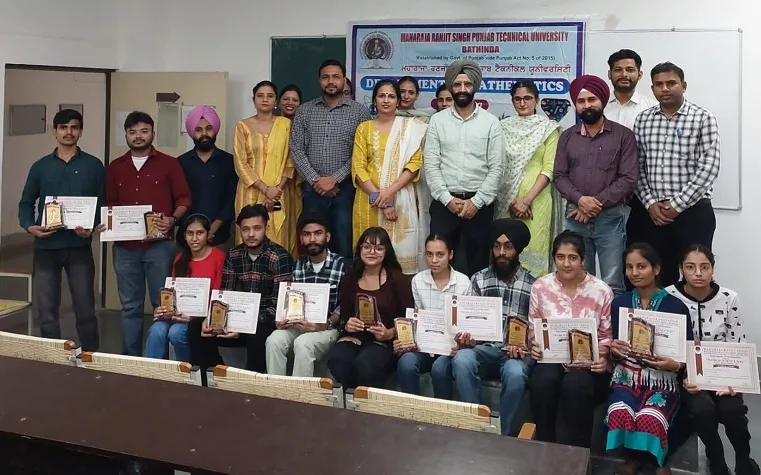 In the competitions, Sandeep Singh and Neelam Garg secured first place in rangoli, while Jashandeep Singh and Anshu Rani earned the second position. In the poster-making competition, Jasmeet Kaur claimed first place, and Sunveer Singh secured second place. Niti Kumari and Ashish Anand achieved first and second place in model making, and Jaspreet Singh and Garvika excelled in the declamation competition.
The department faculty honored the competition winners with prizes. The program concluded with a vote of thanks from the Head of the department, Prof. Mamta Kansal, who applauded the participants and winners for their outstanding performances.