IIT Ropar plants 1000 saplings to mark environment day
Bahaurjeet Singh/ Rupnagar 
Indian Institute of Technology(IIT) Ropar in association with RoundGlass Foundation, in its continuous endeavour towards shaping a sustainable future, celebrated World Environment Day (WED) 2022 by planting 1000 saplings in the Institute, focusing on the UN 2022 theme "OnlyOneEarth" and the National initiative of 'Lifestyle for the Environment – LiFE Movement'.
IIT Ropar director Prof. Rajeev Ahuja said that institute was committed to continue its journey to improve biodiversity, mitigate climate change, enhance environmental care, optimize resource and energy efficiency, solid waste utilization, and significantly reduce plastic waste for improving the quality of lives. Faculty, Students and Staff participated in this event.
On this occasion, the Institute pledged to start a Tree Plantation campaign aimed at raising community awareness about saving biodiversity and balance the ecosystem.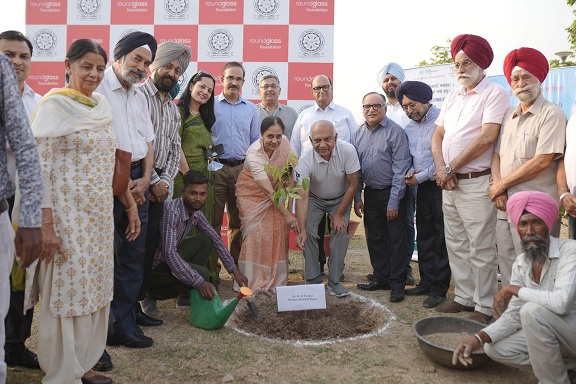 Speaking about the reforestation drive, Vishal Chowla, Leader, RoundGlass Foundation said, "We are on a mission to plant one billion trees in Punjab. We have already planted more than 6 lakh saplings, created more than 500 mini forests in 700 plus  villages"..
IIT Ropar plants 1000 saplings to mark environment day. Dr. Pushpendra P. Singh, (Associate Dean, R&D)  also spoke on the occasion.
Council of Local Associates formed by IIT Ropar participated in the tree plantation. Among them Dr. R.S. Parmar, Dr. Bhanu Parmar, Dr. Namrata Parmar, S. Harsimar Singh Sitta (President Rotary Club), Dr. Inderpal Singh Chadha (Secretary,CLA), S. Harjinder Cheema (Chairman, Cheema Boilers), S. SKS Dhody (Former Director, SML-ISUZU), S. Karnail Singh, President Senior Citizen Group. Dr. B.S. Satyal (Dashmesh Hospital), Sh. J.K.Jaggi (President,  Sarbat Da Bhala Trust),. Ashish Kumar Bansal (Secretary, District Legal Aid Authority, Rupnagar) were present.
June 6,2022