NABARD Conducts Punjab State Credit Seminar for 2022-23
Kanwar Inder Singh/ royalpatiala.in
NABARD, Punjab Regional Office, Chandigarh organized the State Credit Seminar 2022-23 on 09th March, 2022. KAP Sinha, IAS, Additional Chief Secretary (Finance), Govt. of Punjab was the Chief Guest. M.K. Mall, Regional Director, RBI;  JaspreetTalwar, IAS, Principal Secretary, Dept. of Water Supply and Sanitation;  Garima Singh, IRS, Secretary Finance and Sumanta Mohanty, SLBC-Convener were the other distinguished guests attending the seminar. The meeting was also attended by senior bankers, representatives from Govt. line Departments, KVKs, NGOs,FPOs and SHGs etc.
KAP Sinha, ACS (Finance)in his keynote address highlighted the efforts initiated by Govt. of Punjab for the promotion of sustainable development of agriculture viz. allocation of 10.9% of proposed expenditure to be incurred in FY 2021-22 towards agriculture and allied activities and 2.2% towards rural development sector. Sinha dwelled upon the fact that the capital expenditure of GoP has increased from Rs 2200 Crore to more than Rs 8000 Crores within the last few years.The concerted efforts led by the state govt have led to successful grounding of projects without any financial constraints. He also lauded NABARD for significant contribution towards capital formation in rural and agriculture sectors.
On developmental front Sinha emphasized that priority sector lending needs concerted efforts by the bankers. He appreciated the efforts made by progressive farmers, SHGs and NGOs and assured complete support from government of Punjab and called out the banks for same. Unit Cost booklet for Farm Sector Activities in Punjab was also unveiled at the Seminar. Sh Sinha emphasized that  the banks should utilize it for financing the bankable projects.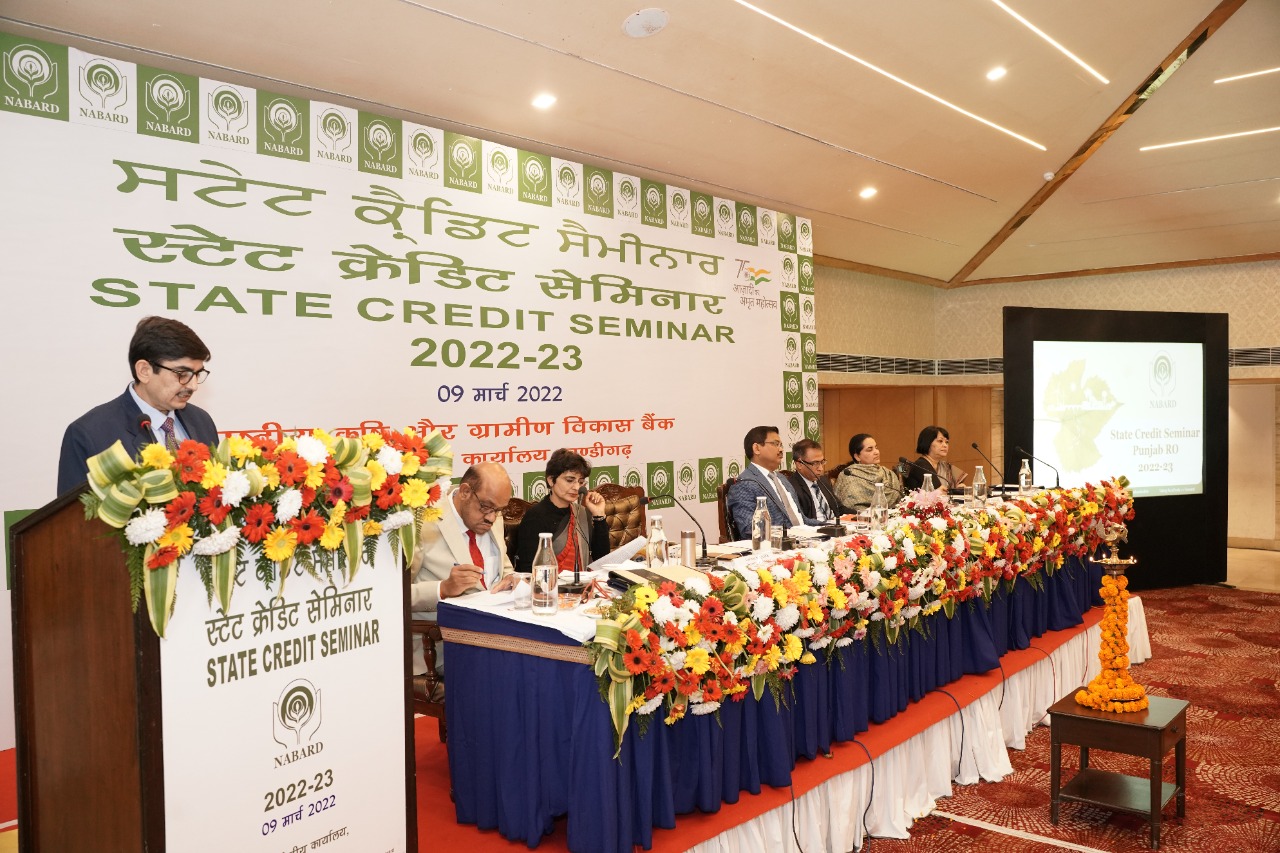 Dr. Rajiv Siwach, CGM, NABARD, Punjab in his inaugural address, informed the house that under priority sector,NABARD has projected credit potential of ₹ 2.61 lakh crore for FY 2022-23 for the state. Dr. Siwach informed the house that agriculture has provided necessary cushion to economy during the pandemic. He also threw light on NABARD's interventions for diversification and resilient agriculture systems with projects on diversification through vegetables in Abohar, Project on Direct Seeing of Rice using Tar Wattar technology with PAU, Reclamation of Alkaline Soil with CSSRI, Karnal and Climate Resilient Livestock Production System under NAFCC. He also informed the house that Rs 700 Crore have been disbursed under RIDF during FY 2021-22 up from Rs 300 Crore during FY 2019-20 resonating with the increased planned capital expenditure of more than Rs 14,000 Crore by Govt of Punjab in 2021-22. This has created a much needed capital absorption capacity at ground levelwith ample possibilities under agro-processing, value-chain development and post-harvest Management infrastructure. He called out for tapping of Central schemes such as PM FME, AIF, PMKSY & inclusion of cooperatives under CGTMSE for the same.
Also present at the seminar, M.K. Mall, Regional Director, RBI, highlighted need for thrust on renewable energy, education and financial literacy. He also advised the banks to look up to MSMEs as they are major contributors to employment and exports which is interlinked to agriculture and rural development.
NABARD Conducts Punjab State Credit Seminar for 2022-23. At the seminar NABARD also felicitated the best implementing departments, banks, FPOs, Cooperatives, SHGs. Exhibition stalls were also set up by FPOs and SHGs at the seminar which were well appreciated by all the dignitaries.
March 9,2022