PCI team on three day visit to Punjab, Haryana and Chandigarh, Punjab assures fair deal
Kanwar Inder Singh/ royalpatiala.in News/ October 18,2023
An official five member team representing the Press Council of India (PCI), which is on three day visit of the state of Punjab, Chandigarh (UT) and Haryana to address the concerns of the journalists, today held meeting with the officials of the Information and Public Relations Department, Punjab.
The PCI delegation, led by Convener of the Council  Vinod Kohli, comprised of  L.C. Bhartiya,  Kingshuk Pramanik,  Jai Shankar Gupta and  Prasanna Kumar Mohanty (all members).
During the meeting with the Secretary of Information and Public Relations Department, Punjab  Malwinder Singh Jaggi and Director  Bhupinder Singh and the other officials, the PCI team said that purpose of this meeting was to discuss the implementation of PCI guidelines and recommendations aimed at improving the working conditions and safety of journalists.
Emphasizing the importance of adhering to all the guidelines of the Press Council of India, the members asked the officials to take proactive measures in implementing these guidelines to address the issues of journalists of the region.
Secretary,  Malwinder Singh Jaggi assured the members of the PCI that the recommendations and guidelines of the council would be diligently implemented. "The collaborative efforts of the PCI and regional authorities aim to foster a more secure environment for journalists, promoting the free flow of information and responsible journalism", said the Secretary adding that the State Government is committed to advocating the rights of journalists. He also listed out various welfare schemes initiated the State Government for the journalists.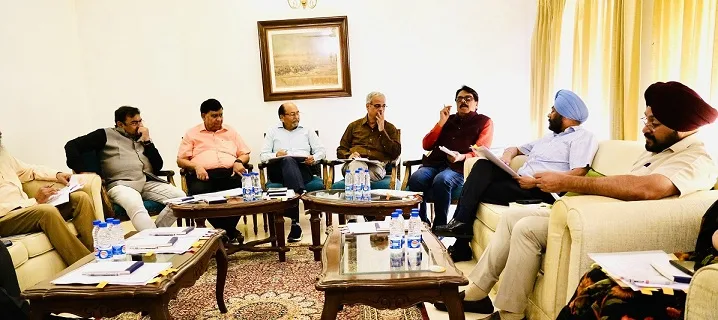 Appreciating the proactive approach of the State Government for the welfare of the journalist fraternity, the team expressed their full confidence, hoping that journalists' welfare will always be the top priority of the State Government.
Prominent amongst others who were present in the meeting included; Joint Director  Randeep Singh Ahluwalia,  Ishwinder Singh Grewal, Shikha Nehra and  Manwinder Singh (all Deputy Directors).