PSPCL senior officer nabbed by vigilance bureau for taking bribe
Kanwar Inder Singh/ royalpatiala.in News/ September 29,2023
The Punjab Vigilance Bureau (VB) during its drive against corruption in the state, on Friday arrested senior executive engineer (XEN) Munish Kumar Jindal, posted at PPSCL office Lehra, Sangrur district red handed while taking a bribe of Rs 45,000.
Disclosing this here today a spokesperson of the state VB said the above mentioned accused has been arrested on the complaint of Sukhchain Singh, resident of village Hariau, in Lehra block. He further informed that the said complainant has approached the VB and informed that his relative Major Singh of village village Dhindsa, Lehra block wanted to transfer his tubewell connection to another village Chhajali. Major Singh being an old person has asked complainant Sukhchain Singh to pursue his case for transfer of connection. The complainant further added that when he met XEN Munish Kumar Jindal in this regard he has demanded bribe of Rs 45000 to allow transfer of this tubewell connection.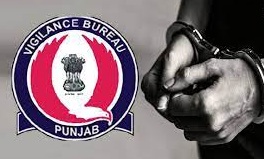 The spokesperson further informed that the VB Patiala range after a preliminary investigation laid a trap and the above mentioned senior XEN was caught red handed while taking a bribe of Rs 45,000 in the presence of two official witnesses. In this regard a case has been registered against Munish Kumar Jindal at Vigilance Bureau Patiala range police station and further investigation was under progress.