Punjab police shifting gangster to "Mai Ji di Sarai ", Patiala
Kanwar Inder Singh/ royalpatiala.in
After securing one day transit remand from Delhi court, today gangster Deepak Tinu was brought to Mansa by district police and presented him before the duty magistrate.
Mansa police demanded police remand of gangster Deepak Tinu, an accused in the Sidhu Moosewala murder case, had escaped from the Mansa police custody on October 1. The court granted Mansa police an eight day of Police remand.
According to the special cell, gangster Deepak Tinu, a member of the Lawrence Bishnoi gangwas arrested near the India-Pakistan border of Rajasthan, directly after absconding from Mansa.
Now, as per available information, Mansa police is shifting the gangster to Mai Ji Di Sarai, interrogation centre of Patiala police for further interrogation and is also planning to bring the dismissed CIA incharge of Mansa police to Mai Ji di sarai -CIA Patiala.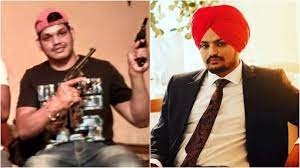 Punjab police shifting gangster to "Mai Ji di Sarai ", Patiala, "Mai Ji di Sarai" is used as an interrogation center by the CIA (Criminal Investigating Agency) wing of the Patiala Police. The haveli was given to the Police Department sometime after Independence. The haveli, because of its fort-like structure, is ideal for interrogation of criminals. During black days and even today, the mere mention to a criminal that he would be taken to Mai ji Di serai, is enough to elicit information.
As per sources, now, Mansa police and SIT will jointly interrogate the gangster Deepak Tinu and  sacked CIA unit in-charge, sub-inspector Pritpal Singh.
Punjab Police had already arrested the sacked CIA unit in-charge, sub-inspector Pritpal Singh, who was also a member of the special investigation team (SIT) probing the Moosewala murder case. Police claimed Pritpal had facilitated Tinu's escape.
Punjab Anti-Gangster Task Force (AGTF) team has already arrested Tinu's girlfriend from Mumbai from where she was planning to leave the country.
November 1,2022