Rotary Club Fatehgarh Sahib Empowers 100 Students through Educational Support
Kanwar Inder Singh/ royalpatiala.in News/ October 19,2023
Rotary Club Fatehgarh Sahib, in its ongoing commitment to empowering the youth, distributed stationary items to 100 students of Government Girls Senior Secondary Smart School, Sirhind Mandi, under its 'Girls Education Empowerment' project.
The initiative reflects the club's dedication to the Rotary International motto for the current year, which emphasizes "creating hope in the world" through educational empowerment.
During the program, Club President Sohajbir Singh Ubha addressed the students and highlighted the significant role that education plays in creating hope for a brighter future.
He encouraged the students to dream big and work diligently to achieve their aspirations. The support provided to these young learners aims to instill confidence and offer a pathway to success.
The event was graced by School Principal Ravinder Sharma, who warmly welcomed Club President Sohajbir Singh Ubha and other members of Rotary Club Fatehgarh Sahib. The school principal commended the club's efforts in promoting education and empowerment within the community.
Devinder Kaur MC, a member of the School Management, lauded the Rotary Club for its commitment to fostering educational opportunities for students, emphasizing the profound impact of such initiatives.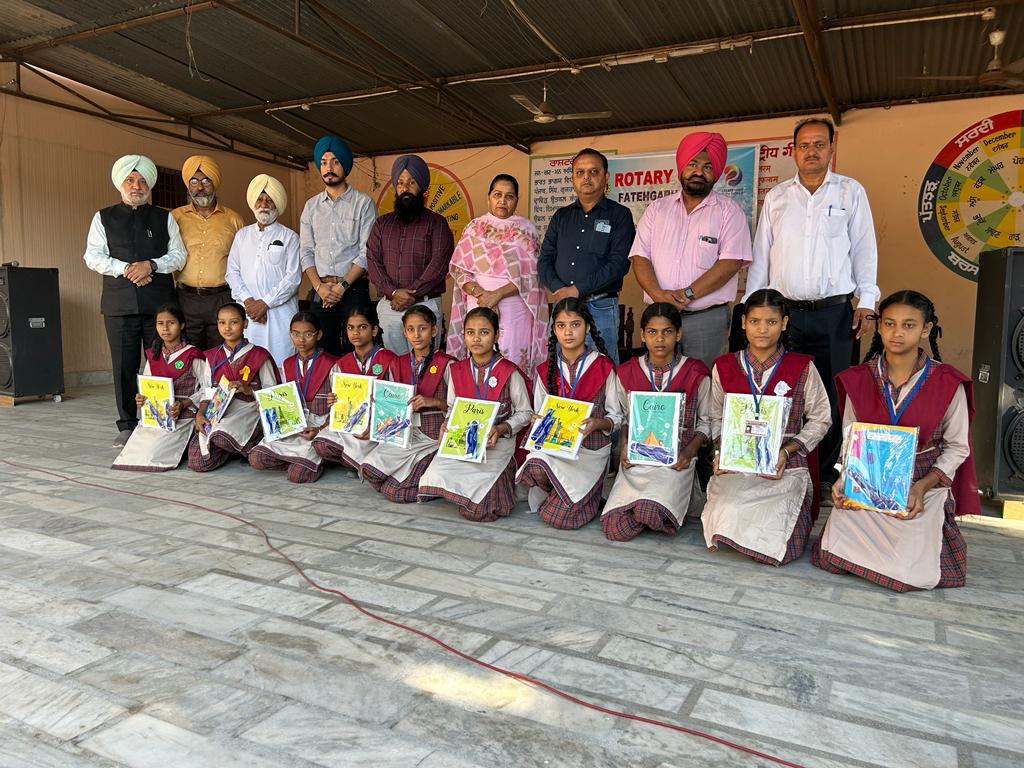 Club Member Dr. Dharminder Singh Ubha also motivated the students to aspire to achieve great heights in life, stressing the importance of education as a means to realize their dreams.
The event was attended by several members of Rotary Club Fatehgarh Sahib, including Past District Governor (PDG) Bhupinder Singh Jaggi, Dr. Kulwinder Singh Sohal, Pritpal Singh, Barinder Singh, and Ratneesh Sood. Their dedication to the project showcases the club's strong commitment to community development and empowerment.
The school staff members, including Dr. Swaranjit Kaur Ubha, Sukhdeep Kaur, Gurcharnjit Kaur, Ravi Bala, Jaswinder Kaur, Trun Kumar, Hardeep Singh, and Kiranjit Kaur, were also present at the event, further emphasizing the collaborative efforts of the school and Rotary Club Fatehgarh Sahib in nurturing the educational growth of these students.
Rotary Club Fatehgarh Sahib's Girls Education Empowerment project is a shining example of how community organizations can come together to create hope and a brighter future for the youth. Such initiatives not only provide educational support but also inspire the students to dream big and achieve their goals.