SAD's centenary year celebrations; started with protest against its president
Kanwar Inder Singh/ royalpatiala.in
Shiromani Akali Dal entered into its centenary year on December 14. But due to the prevalent situation, the party defers its plan to celebrate its centenary year celebrations. But, Shiromani Akali Dal president, Sukhbir Singh Badal today faced the ire of its vote bank-farmers, at Fatehgarh sahib, in its centenary year .
Today, the agitating farmers strongly opposed Shiromani Akali Dal president Sukhbir Singh Badal and stopped his car and shouted slogans against him and his party. The farmers showed him black flags. Sensing the trouble, the police rescued Sukhbir Singh Badal from another route.
Earlier in the day, Sukhbir Singh Badal visited Gurudwara Fatehgarh Sahib to pay tributes to the sahibzada Zorawar Singh , Fateh Singh and Mata Gujar Kaur ji on their martyrdom day.
After paying the obeisance at the Gurudwara Sahib, he holds a meeting with the party leaders at the Gurudwara Sahib Conference hall.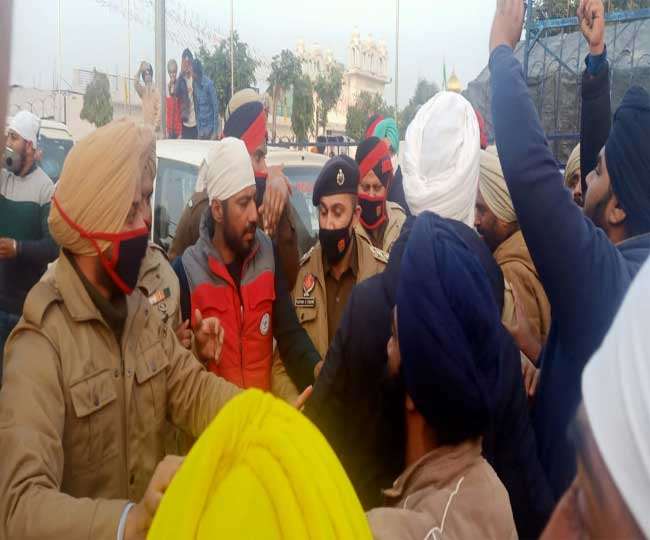 Farmers and youths got to know about Sukhbir's arrival and holding a a meeting, they gathered,carrying black flags raised slogans against them.
The police tried to stop the protesters, but the protesters reached the venue and ghearoed the convoy of Sukhbir's vehicles.
During this time, protesters shouted slogans against Sukhbir Singh Badal and showed him black flags.The police personnel hurriedly changed the direction of the vehicles of Sukhbir Badal's convoy and rescued him.
SAD's centenary year celebrations; started with protest against its president. The protesters said that Shiromani Akali Dal is another form of BJP. Both parties have cheated the farmers together. They will completely boycott these parties and will continue to oppose their people's representatives in the same way. Notably, there was no prominent face among the protesters. There were youth from all the surrounding villages, who were protesting about agrarian reform laws.
December 28,2020