"Say no to corruption; commit to the Nation": AIIMS Bathinda observed Vigilance Awareness Week
Kanwar Inder Singh/ royalpatiala.in News/ November 8,2023
The All India Institute of Medical Sciences (AIIMS), Bathinda observed the Vigilance Awareness Week 2023, from 30th October to 5th November with the theme "Say no to corruption; commit to the Nation".
The week commenced with the administering of the integrity pledge to the faculty members and staff of AIIMS Bathinda by the Chief Vigilance Officer, Dr. Sonia Kochhar on 30th October, at 11 AM in the auditorium. Faculty members who were engaged in hospital responsibilities took the E-integrity pledge on the CVC website.
Sensitisation programs were conducted for the faculty members (2nd November) and security personnel and other staff (4th November) where they were primed about the perils of corruption, its impact on the society, and collective responsibility of all stakeholders to make our workplace corruption free. Community awareness programs were conducted in the form of Nukkad skit at Meritorious School in Bathinda and in the AIIMS Bathinda OPD (1st November) where people were made aware of the malpractices in healthcare delivery, the need to be vigilant and report such matters to the authorities.
IEC material (banners, posters) highlighting the provisions and mechanisms available under the Public Interest Disclosure and Protection of Informers (PIDPI) Resolution, 2004, were prominently displayed at the institute entrance, and frequently visited patient areas like OPD entrance, and cafeteria. Pamphlets written in Punjabi, regarding PIDPI and vigilance awareness were distributed to the patients and patient attendants in the OPD and IPD areas.
Various competitions, based on the current year's theme, were organized during the week such including Rangoli (31st October), Poster making, Cartoon making and Faculty Quiz (3rd November). There was enthusiastic participation from medical/ nursing students and faculty.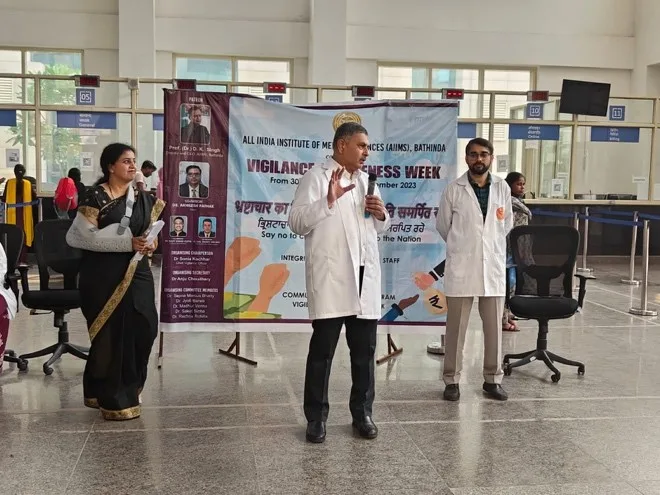 The valedictory evening organised on 4th November was graced by Chief Guest Suresh Kumar Goyal, Secretary, District Legal Services Authority, Bathinda. He spoke on the need for continued vigilance and emphasized on the role played by young doctors in actively preventing corruption. He also enumerated various judicial remedies available to the patients visiting the hospital emergencies. He felicitated the winners of the various competitions in the presence of Dean (Research) Dr. Lajya Goyal, Dean (Examination) Dr. Gitanjali.
The week concluded with an awareness walk conducted within the campus on the morning of 5th November which saw participation by students, resident doctors and faculty members.