Shaheed-a-Azam  Bhagat Singh nephew died due to Covid 19
Kanwar Inder Singh/ royalpatiala.in
"Bhagat Singh's fight was not against the British or against white skin; his fight was against the unfair system and the disparity that existed in society. He wanted the fruits of labour to be distributed equally and this problem still prevails," was once said by Abhay Singh Sandhu , nephew of Shaheed-a-Azam  Bhagat Singh.
Shaheed-a-Azam  Bhagat Singh, has never vision the present India, for which he got himself martyred. A nation struggling for basic health, medical even oxygen ,is not his type of India.
Today Shaheed-a-Azam Bhagat Singh Nephew's Abhay Singh Sandhu, who passed away in a private Hospital, Mohali where he failed to recover from post COVID-19 heath related complications.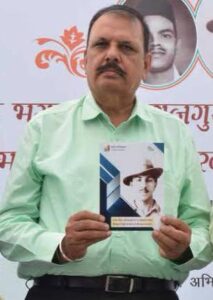 Abhay Singh was son Kulbir Singh who was younger brother of Shaheed Bhagat Singh. Abhay Sandhu as a social activist and relentlessly worked to spread the ideology of Shaheed Bhagat Singh at world level.
Punjab chief minister Capt Amarinder Singh tweeted "Saddened to know about the demise of Abhay Singh Sandhu Ji, nephew of Shaheed-e-Azam Bhagat Singh Ji who passed away after a long illness. My heartfelt condolences to his family. We will bear the expenditure incurred on his treatment. May Waheguru grant him eternal peace.
Sharing his heartfelt sympathies with the bereaved family, relatives and friends, the Balbir Sidhu prayed to the Almighty to give courage to bear this irreparable loss in the hour of grief and grant eternal peace to the departed soul.
May 14,2021