Three absconding Pearls Ponzi scam accused arrested by Punjab vigilance bureau from Gujarat
Kanwar Inder Singh/ royalpatiala.in News/ October 23,2023
The Special Investigation Team (SIT), constituted by the Punjab Vigilance Bureau (VB) Punjab, in assistance with Gujarat Police has been able to arrest three absconding accused from Ahmadabad wanted in the Pearls Agrotech Corporation Limited (PACL) case.
The accused has been identified as Harkirat Singh, resident of village Shamshpur, district Fatehgarh Sahib, Prabhjot Singh of village Gonianan Kalan, district Bathinda and Pardeep Singh of village Jalveda, district Fatehgarh Sahib.
Disclosing this here today a spokesperson of the state VB said the above mentioned accused were wanted in FIR No. 79 dated 16-07-2020 under sections 406, 420, 467, 468, 471 and 120-B of IPC, registered at police station city Zira, district Ferozepur for their involvement in illegal alienation of properties belonging to PACL Ltd. in village Gholumajra, district SAS Nagar, despite having knowledge that the Supreme Court had already restrained the PACL Ltd. from selling/alienating any of the properties wherein PACL has, in any manner, a right or interest.
Mentionably, a committee under the chairmanship of Justice (Retd) R.M. Lodha had been constituted pursuant to the order of Supreme Court to sell the properties of PACL Ltd. and use the sale proceeds to refund the investors who had invested their hard earned money in the collective investment scheme (CIS) offered by the accused company.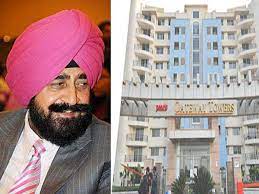 He further informed that the accused Harkirat Singh was also wanted in FIR No. 01 dated 21.02.2023 u/s 406, 420, 465, 467, 468, 471, 384, 120-B of IPC registered at police station Punjab State Crime Cell, SAS Nagar for his role in illegal appointment of three directors of PACL Ltd. on the basis of forged proceedings of general body meeting held on 01.01.2023 and extorting money from individuals/entities linked with PACL properties.
The spokesperson further added that all the above mentioned three accused have been taken on transit remand and would be produced in the concerned court in Punjab. Further investigation in this case was under progress, he added.
Three absconding Pearls Ponzi scam accused arrested by Punjab vigilance bureau from Gujarat. He further informed that in this case the VB has already arrested Prem Kaur, wife of PACL managing director Nirmal Singh Bhangu, Dharmendra Singh Sandhu, one of the illegally appointed director and Jaswinder Singh Dang CA who authenticated documents related to  appointment of illegal Directors of PACL.