Two days SCI-FARI event organized at GNDU
Kanwar Inder Singh/ royalpatiala.in
Student participation in extra-curricular activities is an important aspect of education. But with the COVID-19 pandemic, it has become very challenging for educators to promote and engage students in instructive and fruitful activities. In an effort, to nurture the young minds of students and to widen their scientific knowledge Department of Human Genetics, Guru Nanak Dev University, Amritsar in collaboration with SciRox-Science club, GNDU organized a two-day SCI-FARI event which included scientific illustration through rangoli, a treasure hunt and debate competition.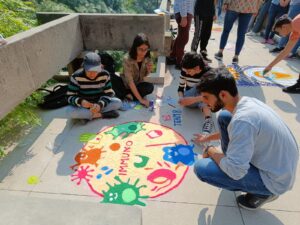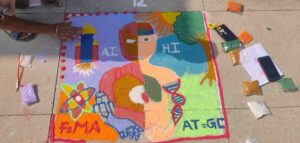 The chief patrons of the event were Prof. (Dr.) Jaspal Singh Sandhu, Vice-Chancellor, GNDU and Prof. (Dr.) Anish Dua, Dean Students' Welfare GNDU. The event was conducted under the guidance and supervision of Dr Bindiya Arora, Convener, SciRox club and Dr Badruddoza, Head, Human genetics department along with their students team that includes Shagun Chourasia, Pratham Sharma ,Suneeth taneja, Shera Sahota, Gayatri Kalia, Jaskaran Kumar and Parul Dhand.
The main objective of this competition was to increase interaction among different department students and to communicate science in the best way possible and to foster creativity among students. Ritu, Rim jhim , Ankita and Kashish from Biotechnology department won 1st prize in Rangoli competition. They were awarded a cash prize of 1500 along with certificates. Akanksha from physics department and Chetan and Anshuman from Maths department won the treasure hunt. They were also recognized by 1500 cash prize and certificates. Arunsree and Noorpreet kaur were awarded with the trophies and certificates for bagging 1st position in the debate competition. Tushar from Biology department was awarded as the best speaker for debate.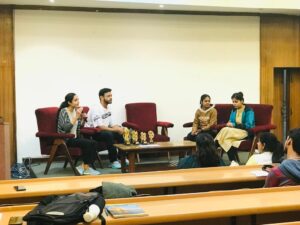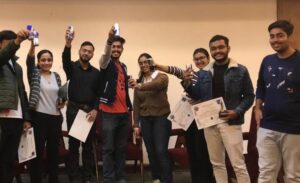 Inertia- an interdisciplinary science education journal was given to debate winners and the judges of the Debate Competition. The event was supported by Red Bull, an Energy drink Company. Dr. Vasudha Sambyal from Human genetics department addressed the participants after debate competition on Climate Change and also applauded the efforts of the organzing team for this event.
November 10,2021