2 years old Ansh succumb to his injury; death toll rises in Patiala's Fortuner accident case
Kanwar Inder Singh/ royalpatiala.in
As per the available information "ANSH" a two-year-old youngest person injured in yesterday's "Fortuner" accident case in Patiala.
As confirmed by his family members Ansh was referred to PGI Chandigarh, early in the morning at around 2 am, where he succumbed to his injuries, late in the evening. His body will reach Patiala, by midnight.
He was going on a bike with his uncle (Mama ji), sister, pregnant mother, when the speedy Fortuner driven by Prithpal Singh hit them at Thapar college traffic lights. He got head injury along with other injuries. His uncle, mother, sister also got severe injuries.
With Ansh's death the casualty rose to two, in yesterday's accident.
One Paramvir Singh, a student of DAV Public school, a Thapar college employee is still critical and on ventilator support at local private hospital-Columbia Asia hospital.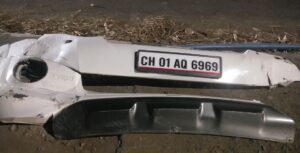 Earlier in the day, family, friends, farmers staged a dharna at the accident site, blocked the road, demanding justice for their kin's. They staged protest against the police inaction, protecting the accused and not arresting the accused Prithpal Singh and allowing the accused Prithpal Singh to get admitted at another private hospital-Vardhman hospital, at Urban Estate Patiala.
Later they handed over a memorandum to the SDM Patiala, DSP City Patiala to take suitable action against the accused, shifting of the accused from private hospital to government Rajindra hospital, retesting of blood samples of the accused from the govt hospital along with other demands.
2 years old Ansh succumb to his injury; death toll rises in Patiala's Fortuner accident case .DSP City Yogesh Sharma, along with SHO Tripuri Harry Boparai assured the protestors, family members  that stern action will be taken against the accused driver.
Excise official who mowed down one; injured five outside Thapar college in Patiala; not arrested
March 30,2021