royalpatiala.in News Impact? Apex Court raises doubts over EC Goel appointment's issue
Kanwar Inder singh/ royalpatiala.in
News website royalpatiala.in had broken the news of "voluntarily retirement "taken by senior Punjab cadre IAS office Arun Goel just before 40 days of his regular retirement from the government service and appointment on a constitutional post in less than 24 hours of his retirement.
Later, an application was moved in the Apex court raising the issue to highlight the manner in which appointment of the Election Commission were made by petitioner.
Now, the court asked the centre government to produce in 24 hours the file related to the appointment of former senior bureaucrat Arun Goel as an election Commissioner so as to demonstrate how ECs are chosen.
The five-judge Constitution bench included Justices KM Joseph, Ajay Rastogi, Aniruddha Bose, Hrishikesh Roy, and CT Ravikumar has constantly grilled the government over the lack of regulations to guide appointment of CEC and ECs.
The court said it is only looking into the mechanism and see whether everything was according to the process. Goel, who would be in line to be the next CEC after incumbent Rajiv Kumar demits office in February 2025, was appointed as an EC on November 19.
The apex court noted that it had started hearing a batch of pleas seeking a Collegium-like system for the appointment of ECs and the CEC last Thursday and Goel was appointed as an EC on November 19.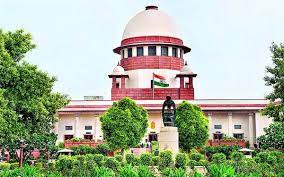 Even the court raised question over the successive governments functioning which have "completely destroyed" the independence of ECI by ensuring no CEC gets the full six-year term since 1996, adding the absence of a law for appointment of ECs has resulted in an "alarming trend".
The petitions have complained that Parliament has not framed legislation despite a mandate under Article 324(2). At present, ECI is a three-member body, with a CEC and two ECs. Under Article 324(2) of the Constitution, the President is empowered to appoint the CEC and ECs. This provision further stipulates that the President, who acts on the aid and advice of the Prime Minister and the council of ministers, will make the appointments "subject to the provisions of any law made in that behalf by Parliament".
royalpatiala.in News Impact? Apex Court raises doubts over EC Goel appointment's issue. Even opposition parties had accused the BJP government of weakening the three-member Election Commission, and raised doubts over the selection of poll panel members.
Within few hours of retirement Punjab IAS officer gets constitutional posting
November 23,2022