World Ozone Day Celebrations at Govt. Bikram College of Commerce, Patiala
Bureau/ royalpatiala.in News/ September 15,2023
The Eco club of Government Bikram College of Commerce, Patiala celebrated the World Ozone day under the guidance of the College Principal Prof. (Dr.)Kusum Lata, following the directions issued by the Department of Higher Education and the Office of Punjab Pollution Control Board .
The Theme of this year's World Ozone Day is "Montreal Protocol: fixing the ozone layer and reducing climate change "The theme of the program was well delivered through the speeches   and the posters made by the students. This Program was held to make the students aware about the role of ozone in the environment and to know about the controlled use of ozone depleting substances to protect the Ozone layer for the present and the future generations.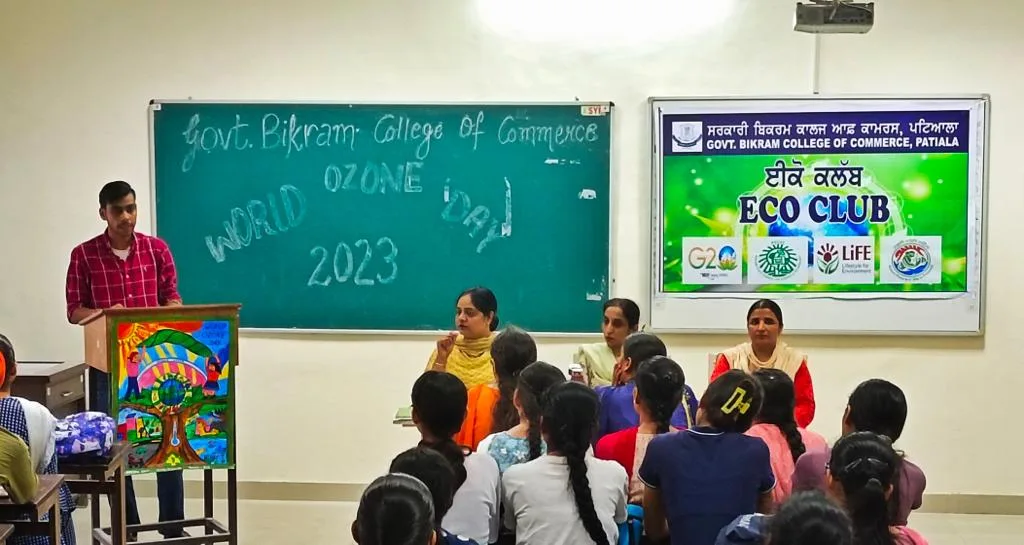 Dr. Jaspreet Kaur and Dr. Tarandeep Kaur coordinated the program .About 110 students attended the awareness program. Haripal Singh of B.Com-III through his poster beautifully depicted the effects of Ozone depletion, causes of Ozone depletion, Methods to prevent it, measures to improve the ozone layer and to harness the energy of the sun in useful ways.